Human Resources Online is heading to Bangkok with the Accelerate HR conference on November 26-27.
HR leaders from Agoda, DKSH, Fonterra, FWD, Kasikornbank, Minor Food, Nissan Motor and more have already confirmed to speak.
Bring your team for additional group discounts.
With today's workplace attire trending towards the casual side, even the typically uptight accounting and finance departments have switched out their suit and tie in favour of the more casual khakis and polo shirt.
A recent survey by Robert Half Finance & Accounting revealed that 74% of CFOs said their accounting and finance departments have a somewhat or very casual dress code. Nearly a quarter (23%) observed that business attire guidelines have relaxed over the last five years, compared to 16% who reported a more formal dress environment.
A similar survey by OfficeTeam have found that 56% of employees preferred to wear a more relaxed work attire, and most employees (86%) reported they like casual dress codes because they can wear more comfortable clothes.
However, about one in four respondents (23%) said their company policy isn't always clear about what attire is acceptable, and 41% admitted they're at least sometimes unsure about whether clothing is office-appropriate. Hence, to eliminate that uncertainty, nearly half (48%) choose to don a uniform.
In line with that, OfficeTeam also asked respondents to reveal something they've considered wearing to work but were unsure whether it was appropriate.
Here are some of their responses:
An off-the-shoulder ("cold shoulder") top
Leggings
A Hawaiian shirt
Flip-flops
A baseball hat
Jeans
Pyjamas
Fishnet stockings
A tight sweater
Capri pants
A track suit
A low-cut top
Dressy sandals
A hockey jersey
Shorts
Cargo pants
A political T-shirt
Colored jeans
A tank top
Tennis shoes
A short skirt
A sheer top
Would you consider these clothes inappropriate for work?
"As work attire skews more casual, the rules about acceptable office wear aren't always clear-cut," said Brandi Britton, a district president for OfficeTeam.
"Besides following official company policies, employees should pay attention to the wardrobes of managers and colleagues. If you're uncertain about whether it's ok to wear something to work, it's best to play it safe by skipping it."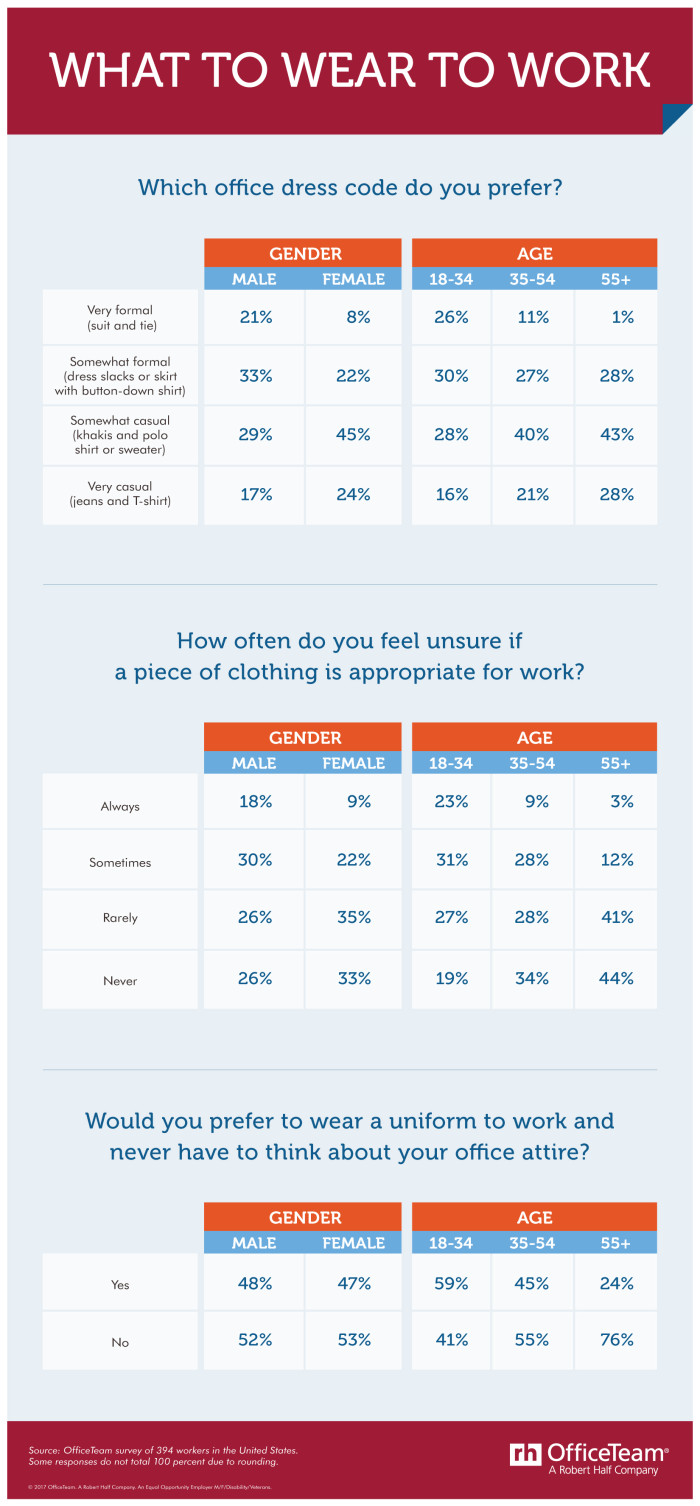 Photo / 123RF

Mark your calendars as the crowd's favourite candidate and employee experience conference, Talent Experience Forum is back!
Happening only in KL, Malaysia on 5 November. Register your seat because you will be hearing top insights from C-suite and senior HR leaders from Dell, Digi, GoCar, IPG Mediabrands, Nestle, Tesco, Unilever and more.