Ranked as one of the top employers in Singapore, Hong Kong, and most of Asia, it comes as no surprise that Google has yet again secured the top spot as the world's most attractive employer.
This was, at least among both business and engineering/IT students in the latest Universum Talent Survey.
Polling more than 267,000 business and engineering/IT talent in the world's 12 largest economies, the report found that among the business rankings, Apple proved to be a close competitor for Google after having jumped five spots from 7th to 2nd place.
This was followed by EY and Goldman Sachs and PwC which dropped three places to 5th place.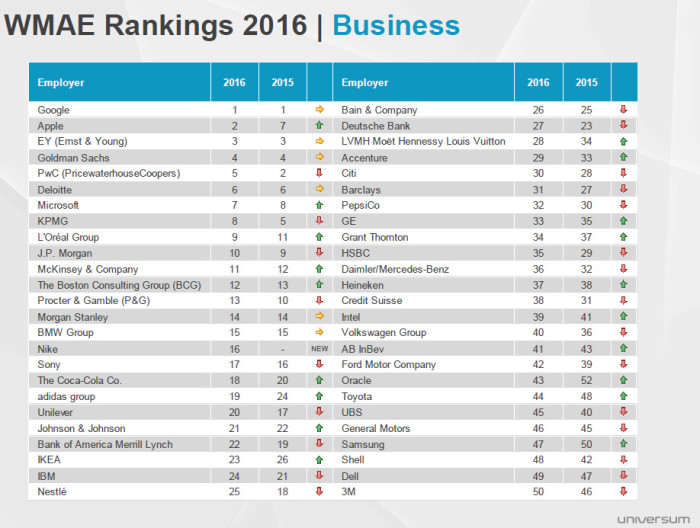 On the engineering/IT side, Google was followed by Microsoft, Apple, BMW Group. Additionally, IBM replaced GE at 5th place.
Preferred industries among business talent included professional services (50%), management and strategy consulting (29%), banks and financial services (28%).
Among the engineering/IT talent, however, engineering and manufacturing was found to be the most preferred industry at 25%, followed by aerospace and defence (19%), software and computer services (19%).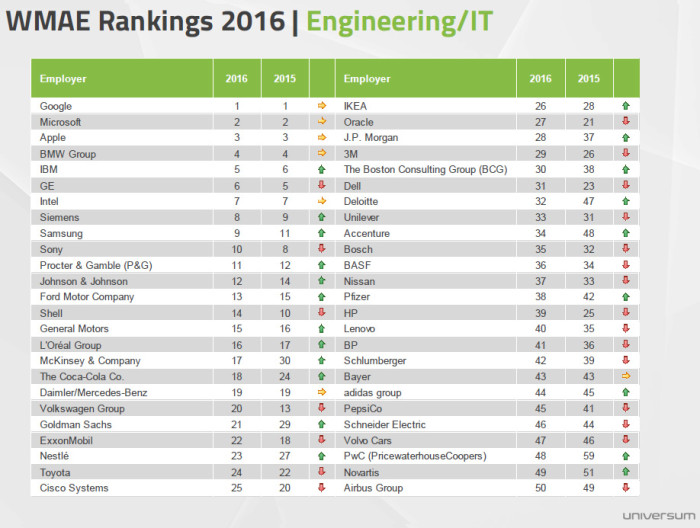 With strong "lifestyle brands" doing better than others, mixed fortunes were seen for consumer goods firms among the business talent – for example, Nike debuted on the ranking at 16th place as compared to Adidas group at 19th place.
While the automotive industry saw a stable attractiveness – with the exception of Volkswagen – among both business and engineering/IT talent, banks struggled to compete with tech firms for business talent resulting in a fall in rankings for certain banks.
Thankfully, due to the interest of engineering/IT talent in joining professional and financial services firms, some banks have made strong advances in the engineering/IT rankings.
Following the collapse in oil and gas prices, the energy industry was noticeably less attractive, yet renewable energy firms have seen a spike in popularity amongst both sets of talent.
Additionally, significant declines in attractiveness was observed for hardware focused IT firms and electronics manufacturers.
ALSO READ: The top 10 companies Singaporeans love to work for
An analysis of the ranking found that the key to being percieved as a desirable employer is about balance.
Both business and engineering/IT talent were found to be actively in pursuit of obtaining a well-balanced lifestyle that encompasses work with personal time.
Image: 123RF