Mark your calendars as the crowd's favourite candidate and employee experience conference, Talent Experience Forum is back!
Happening only in KL, Malaysia on 5 November. Register your seat because you will be hearing top insights from C-suite and senior HR leaders from Dell, Digi, GoCar, IPG Mediabrands, Nestle, Tesco, Unilever and more.
Younger employees are constantly infiltrating the workforce, and have now been identified as the most optimistic lot when it comes to career opportunities.
Spherion's 2014 Emerging Workforce Study found 61% of Millennial employees agree or strongly agree they have greater opportunities at work because of their age. Only 26% of Baby Boomers felt the same way.
Three in 10 Millennials also admitted to judging their colleagues' capabilities based on age alone, significantly higher than the average of 14%. In fact, 39% of Millennials make judgements about their supervisors' ability to manage based on their age.
However, this young discerning group of employees were also found to be the least engaged at 41%. Comparatively, those from the pre-World War II generation were the most engaged at 54%, followed by Baby Boomers (47%) and Gen Xs (43%).
In order to better engage Millennials, companies would have to offer more opportunities beyond their current job scope, a factor highlighted by 29% of younger workers.
As for mature workers, gaining more trust in leadership was identified as the one thing that would increase their engagement levels (21%).
The study, which surveyed 2,000 employees,  also detailed the different generations' attitudes towards social media and work, which can be found below: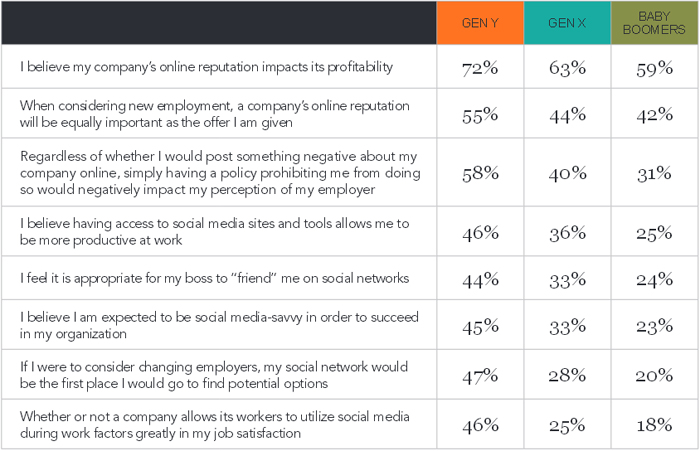 Image: Shutterstock

Uncover and learn about complex HR innovation tools and strategies at Accelerate HR from Thailand's largest employers including Agoda, DKSH, Fonterra, FWD, Kasikornbank, Minor Food, Nissan Motor and more.
Happening in Bangkok on 26-27 November, group discounts when you bring your team.