According to the latest jobsDB Job Seeker Salary Report 2018, 71% of Hong Kong employees have received pay rises, with an average salary increase of 5.7% in 2018 compared with just 3.9% last year. The industries with the highest average salary increments are; banking/finance (8%),  information technology, (7%) and marketing/ public relations (6.4%). While transportation and logistics professionals received the lowest salary growth among all job functions with an average growth of 3.1%.
"With financial technology (fintech) emerging rapidly in Hong Kong, new business models and services are surging dramatically in the financial sector. At the same time, regulators in Hong Kong and other parts of the world are increasingly tightening regulations, resulting in an increased demand for risk management professionals," said Isaac Shao, country manager of jobsDB Hong Kong Limited in a press statement.
"Information Technology has remained the top three job functions in receiving the highest salary growth for the third consecutive year. Take network engineer as an example, with the rise of e-commerce and start-ups, along with an increasing number of companies starting to leverage mobile applications and cloud technology, there is a growing demand for relevant talent in the market. Meanwhile, as companies are seeking ways to combat hackers and other cyber threats, they might be willing to offer higher salaries to attract professionals with network security experience."
He added, "The IT industry has a growing thirst for talent. If a company promotes a positive work-life balance, a friendly working environment, or offers some special employee benefits, it could provide details in its recruitment advertisement to help attract talents and enhance company image."
ALSO READ: Government addresses shortage of IT workers in Hong Kong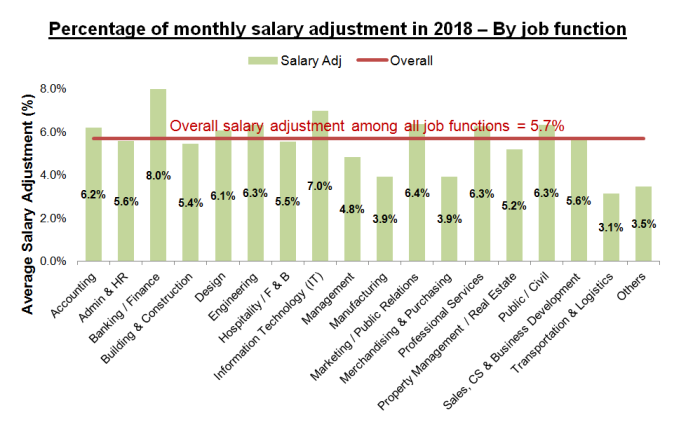 According to the survey, 15% of employed respondents need to work more than 50 hours per week (working in the workplace and from home). Those with the longest hours include Hospitality/F&B professionals with 70% saying they work more than 50 hours a week, building and construction employees (46%) and management (38%).
The survey also indicated that 20% of Hong Kong employees don't want a promotion. Job functions not wanting to be promoted include; management (30%), design (27%), and administration and human resources (26%). Respondents that don't want to be promoted cite: maintaining work-life balance (64%),  the salary increase does not correspond with workload/working hours increase (50%) and they do not want to handle increased expectations from their boss (22%).
On the flip side for those hoping to get promoted 86% of them want a salary increase, 62% think that a promotion is a recognition of their efforts, and 32% expect more benefits, such as more annual leave or a better insurance plan.
The survey also asked what actions respondents had taken in order to obtain a promotion.
51% of employed respondents took on more job responsibility proactively
36% enrolled for further studies
19% worked crazy long hours.
Although most of these techniques are related to job performance, some interviewees have also sought to please their supervisors and colleagues through other means,
actively joining company activities (19%).
paying more attention to physical appearance (13%).
flattering boss/colleagues (7%).
helping boss/colleagues with personal matters (6%).
"While Hong Kong is obsessed with efficiency and productivity, there are unfortunately about 20% employees who still work crazy long hours or have to join company activities to get promoted," said Shao.
"It's actually an old belief that devoting more time and showing more loyalty to the company can help secure a promotion. If employers want to recognise truly talented people with promotions, they must clearly explain to all employees the company's promotion process and criteria, and develop support measures, such as training, to assist the promoted staff in adapting to their new responsibilities and personnel relations."
ALSO READ: 2018 HR salary guide