For the 5th consecutive year, HR Distinction awards will again honour the very best in the HR industry. Winning is both an affirmation of the exceptional quality of your work in the industry and among peers. Submit your entries now!
Contact us now for more details.
This article is brought to you by Straits Interactive.
As global regulations kick in, companies will find themselves having to manage compliance across borders – this is where Straits Interactive can help.
With today's data privacy laws in force, and the EU General Data Protection Regulation (GDPR) soon to be enforced, all it takes is for data or a privacy breach to get your company into trouble with the law.
New privacy invasive technologies, such as AI, big data profiling, and the risks of reputational damage and consequential loss of shareholder value, as shown in the recent Facebook-Cambridge Analytica saga, bring the privacy issues and requirements of data protection laws to centre-stage.
In ASEAN, especially Malaysia, the Philippines and Singapore, data protection regulators have ramped up enforcement. To safeguard your company's data (and that of your client), you first need to assess and be aware of the various exposures and risks involving personal data within your company.
Fines for organisations can be onerous if a company is found to be in breach of the laws. In Malaysia, a jail term can also apply.
Your data protection officer (DPO) or compliance team will then need to put policies, procedures and controls in place, sustain compliance and finally, respond to a data breach.
Then there is the EU's GDPR that will come into force from May 2018. Designed to protect the personal data of all European Union (EU) residents, it also applies to businesses:
In ASEAN that conduct business in the EU,
That market to EU residents, or
Who are vendors to EU companies (vendors are increasingly seeing this inserted in contracts).
Fines for organisations can be onerous if a company is found to be in breach of the laws. In Malaysia, a jail term can also apply. As for the EU, an organisation found to be in breach of the laws can be fined up to €20 million (as a start) or 4% of the company's global annual turnover of the previous year, whichever is higher.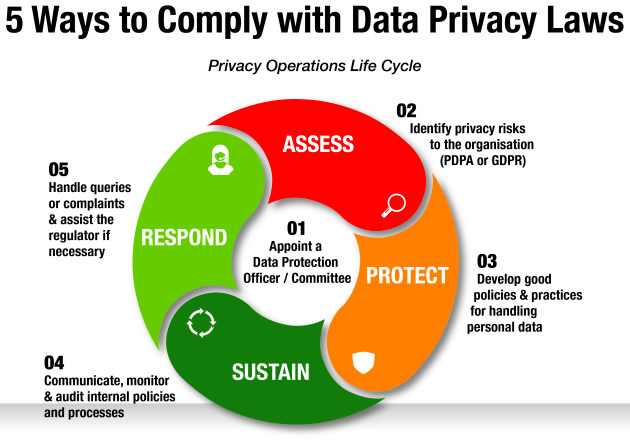 These regulations will reshape the way organisations do business and approach data protection and privacy not only in Europe but around the world.
As global regulations kick in, companies will find themselves having to monitor and manage compliance not only in their locales but also across borders. They will also need to keep track of new laws.
Our collaborative data protection management system (DPMS) solution covers operational aspects, cybersecurity, and how companies here can be accountable for PDPA and GDPR to do business globally. It allows data protection and compliance personnel to achieve the following:
Operationalise compliance while enhancing achieving automation, collaboration and productivity gains;
Provide senior management with a consistent view of compliance status across the company as well as its subsidiaries;
Create a sustainable compliance framework with the requisite know-how and tools to handle compliance and data sharing requirements across multi-jurisdictions in the new data economy.
Whether you're a small, medium or large enterprise, Straits Interactive and our partner solutions can help you achieve operational compliance!
Lead photo / 123RF
Graphic / Straits Interactive
---
Straits Interactive delivers end-to-end governance, risk and compliance solutions in the areas of data privacy and protection. Our software-as-a-service solutions include the data protection management system (DPMS); governance, risk and compliance system (GRACIAs); and the SpiderGate do-not-call management system, all of which are supported by professional services that include advisory services, audits, and training. We were recently voted one of the top 25 compliance solutions providers in the Asia Pacific by Asia Pacific CIO Outlook magazine. More information can be found on www.straitsinteractive.com.
---
This article was published in Human Resources' special edition – Training & Development Guide 2018, Malaysia. Read the full magazine here.