Across Asia Pacific, 41% of employers are spending more than 20% of their payroll costs on employee benefits, with the amount being particularly high in Philippines and Indonesia.
Both countries have generous medical and retirement benefits, leading to 38% and 29% of employers respectively spending upwards of 30% of payroll on benefits, as highlighted in Towers Watson's new study of 1,145 employers across 20 APAC countries.
In Malaysia, the majority of employers (40%) are spending between 20-30% of payroll on benefits for staff, with just 12% spending more than 30%.
Worryingly however, more than quarter (27%) of Malaysian employers said they "don't know" how their they are spending on benefits, compared to 22% overall in Asia Pacific.
Andrew Heard, MD of benefits APAC at Towers Watson, said that the lack of awareness points to employers struggling with the governance of benefits programmes, whilst juggling multiple systems, vendors and administrative platforms.
As a result, just 16% of employers in the region believed their benefits are being highly-valued by employees.
"If employers are finding it hard to put a number on their benefits spend, then it is perhaps no surprise that employees have low awareness of the value of their program," explained Heard.
ALSO READ: 83% of Malaysians say money is top priority while job hopping
On the flipside, among companies that feel they communicate their benefits effectively, 20% of employers said their benefits were highly valued, four times the firms which do not communicate effectively (20% compared to 5%).
A similar effect was seen among companies that take employee insights into account when identifying which benefits to offer. Organisations that said their benefits were highly valued were three times more for companies that take employee insights into account (18%) compared to those that do not (6%).
Chris Mayes, director of benefits optimisation consulting APAC at Towers Watson, said: "We find that those employers who regularly engage their employees in their benefits – either through seeking employee feedback or communicating regularly – tend to see better value."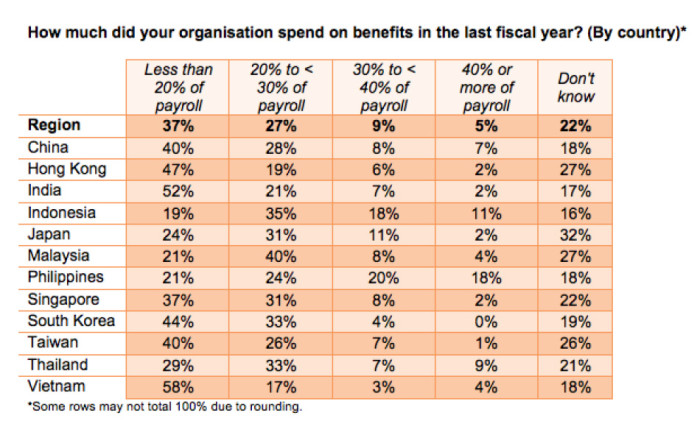 Across the region, annual leave and health/medical care are the two most prevalent benefits. Other popular benefits include risk benefits (life insurance, accident insurance) and retirement benefits.
The most number of Asia Pacific employers (32%) are looking to introduce more flexibility into their benefits programme in order to address the gap in perceived value.
More than one-quarter (26%) are planning to introduce flexible benefits. Among organisations that already have these in place, the majority felt their programmes had been successful in promoting employee appreciation of benefits (67%).
Image: Shutterstock