Almost two thirds of financial services professionals in Singapore say their current employer is an enjoyable place to work, yet a huge percentage are actively seeking – or are "open to" – new opportunities, proving that a satisfied employee is not necessarily a loyal one.
The eFinancialCareers Career Satisfaction & Retention survey found two thirds of local finance professionals believe their current workplace is an enjoyable place to work. They identified the people they work with (23%), manageable working hours (15%) and compensation (13%) as the biggest reasons they're satisfied with their careers.
However, they are not closed off to better opportunities. The report, which surveyed 1,142 respondents in Singapore, found 41% are actively seeking new employment, with only 7% not looking for opportunities at all.
Over half (52%) while not actively looking, are open to new opportunities.
"It is very normal for ambitious people to be open to job opportunities; this has always been the way. However, finance professionals today are able to develop and interact with far wider networks more efficiently than ever before," George McFerran, sales and marketing director at eFinancialCareers, said.
"This enables them to actively manage and develop their career with a far greater degree of control than was previously possible."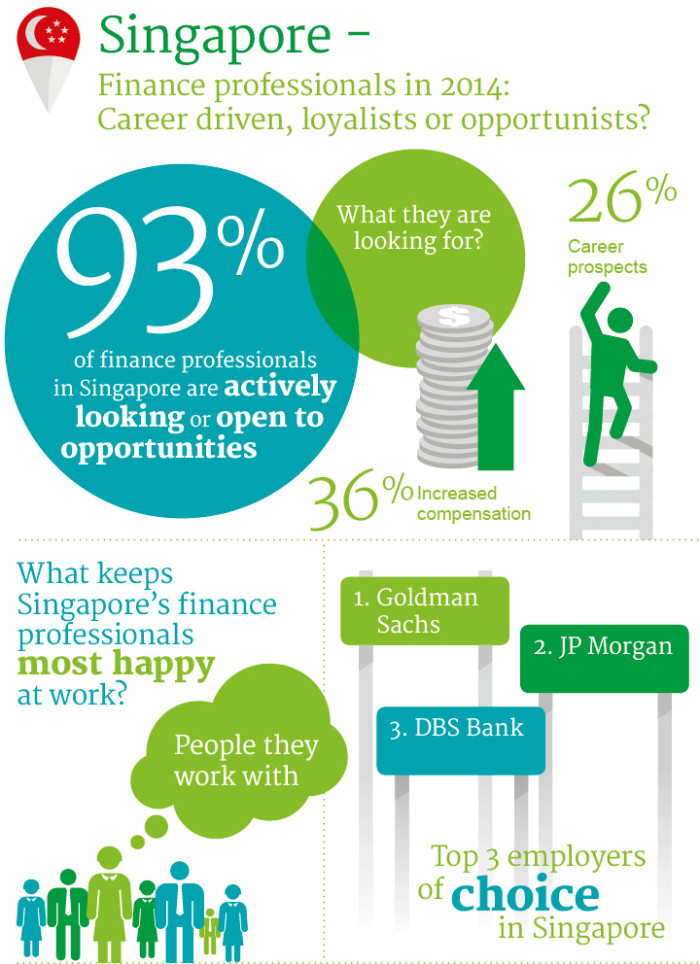 eFC Career Trends 2014 – Singapore 
Employers in the industry should focus not only on attracting but also retaining their talent, McFerran said.
"Today, even people who are completely satisfied at work are often indirectly connected to the job market and this means carefully developed employer branding is crucial for companies wanting to differentiate themselves."
The report also listed the most desired financial companies in Singapore:
1. Goldman Sachs
2. JP Morgan
3. DBS
4. Citigroup
5. OCBC
When asked what attracted them to these top five companies, respondents cited company reputation (36%) and perceived career prospects (26%).
The local rankings do not differ much from APAC's employers of choice, which were Goldman Sachs, JP Morgan, ANZ Bank, UBS and Citigroup.
Image: Shutterstock