A Sydney man is advertising a job which requires nothing more than watching football matches, writing about them on social media, and getting paid $180 a pop.
Wanting to be known only by his online identity "Dino", he is offering to pay someone to watch games of Champions League Football and assume his internet persona, as he is too busy with work "to post insightful commentary and engage in banter in a private Facebook group of football enthusiasts".
Dino, whose ad on Gumtree said the chosen one can expect to be paid A$150 (S$180) per game, claims to be a busy legal professional, hence his inability to keep up with the Champions League.
"As I have a busy work and social life, I cannot arise before 7am as I must catch up on my beauty sleep. However I also cannot allow my reputation as an intelligent football fan to fall by the wayside."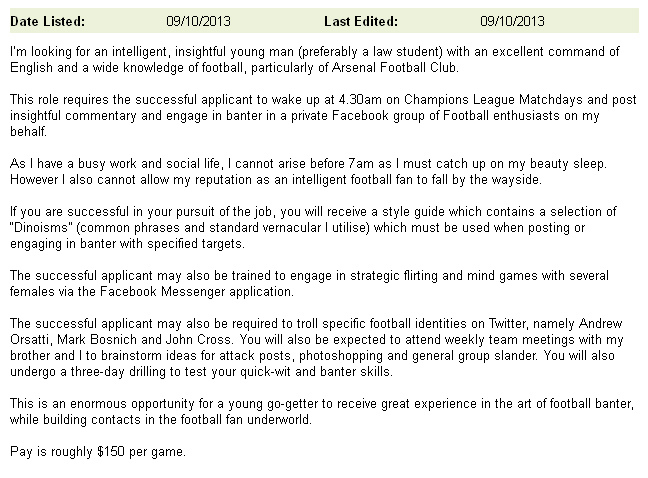 The successful applicant will receive a "style guide", which "contains a selection of 'Dinoisms' (common phrases and standard vernacular I utilise) which must be used when posting or engaging in banter with specified targets".
And if that's not enough, Dino also requires his online double to "engage in strategic flirting and mind games with several females via the Facebook Messenger application".
If this sounds like a dream job to you, check out Dino's original ad: http://www.gumtree.com.au/s-ad/sydney-city/other-business-services/exciting-position-for-intelligent-football-fan/1029382055