According to the newly released Harvey Nash Trump Effect on Asia survey, Trump's victory could result in some positive outcomes for the workforce in the APAC region.
Polling 141 APAC business leaders, the survey revealed:
36% of respondents believe there will now be an increased focus on local leadership in APAC.
35% foresee Asian nationals returning in greater numbers from the US.
24% expect to see a slowdown in talent migration.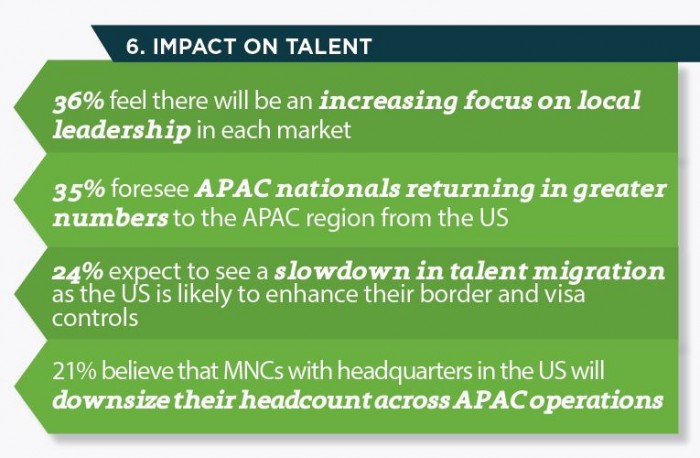 While this might be a positive outcome for the workforce, the majority of APAC leaders think the long-term impact could be negative for the region. The survey found that 71% of respondents believe that Trump's victory has not yet affected their business; 15% report a negative impact, while 8% say it has had a positive impact on business.
Additionally, the majority of APAC business leaders expressed concern about the lasting impact of a Trump presidency. 29% expect a long-term negative impact on APAC business profits, while 19% are assessing their existing trade deals with the US, and 7% have cut budgets as a result of Trump's victory.
The survey also revealed that businesses in the region were mainly unprepared for the election result. 65% had no plan in place for a Trump victory, 19% had prepared a business contingency plan, and less than a tenth (9%) of respondents were fully prepared, with both a response and plan to deal with this outcome.
Looking to the future, 59% of APAC business leaders predict that trade and tariff negotiations will be affected by the Trump presidency, 49% foresee market instability, and 30% anticipate an economic slowdown in the region.
Nick Marsh, MD, Harvey Nash Executive Search APAC said: "Trump's victory came as a surprise to many business leaders in the region and came at the end of year which saw increased levels of uncertainty across global markets. Those in the region must now look at how to steady the ship and put in place plans to deal with these anticipated changes. The good news is that so far it's business as usual for the majority of APAC businesses and that those in the region stand to benefit from a wave of returning local talent."
Photo / iStock