For the 5th consecutive year, HR Distinction awards will again honour the very best in the HR industry. Winning is both an affirmation of the exceptional quality of your work in the industry and among peers. Submit your entries now!
Contact us now for more details.
In a study of 110 working professionals in Singapore, Sydney, Mumbai and Dubai, the highest importance was given to creating new business opportunities, and sustaining business growth.
More specific to HR, very high importance was placed on digital tech transformation (41%), innovation in products and services (31%), and developing leadership and talent (29%).
On the same note, the survey conducted by SP Jain School of Global Management, found the following as the challenges faced by HR this year (in terms of 'high' importance):
Managing employee expectations (69%)
Cost optimisation (55%)
Adopting new technologies (53%)
Aligning business and HR strategy 54%)
Developing effective HR programmes (48%)
Talent shortage (45%)
Executive sponsorship (22%)
The study findings, compiled by Prof Veena Jadhav (assistant dean – executive MBA, and assistant professor – HR, pictured below) were announced at HR Conclave 2018, attended by Human Resources.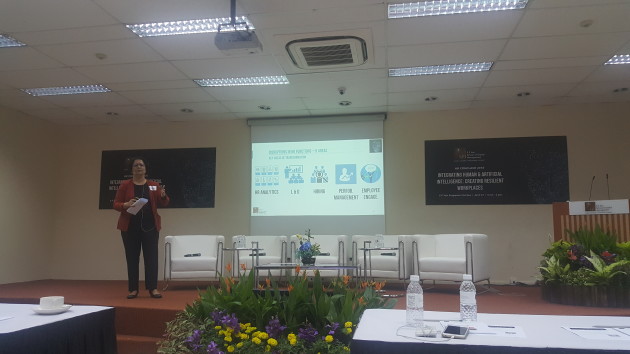 Close to half of organisations surveyed (48%) report experiencing increased adoption of digital technologies, while 37% also report 'substantial' adoption. By region, this trend was most evident in Mumbai (63%), followed by Sydney and Singapore (58% and 54% respectively).
Perception on the adoption of the digital enterprise are shared below: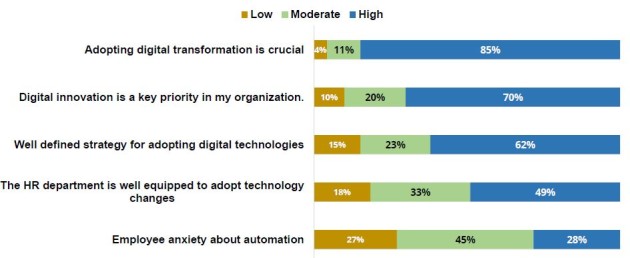 Graphs / SP Jain School of Global Management
Photo / Journalist's own