HR Vendors of the Year Awards is back again for its 5th year with a fascinating gala night to celebrate the best HR vendors in Hong Kong. Winning is both an affirmation of the exceptional quality of your work in the industry and among peers. Enter Awards now
Contact us now for more details.
When determining expat packages for employees relocating with their family, it is important to consider the price of international schools in the city – tuition fees can be quite costly especially in the big cities.
According to a new research by the International Schools Database, while Shanghai took the cake for the most expensive international school tuition fees (US$2,783 per child), in Singapore (6th), monthly tuition fees were pegged at US$1,637 per child.
In Hong Kong (10th), tuition fees are slightly lower, pegged at US$1,226 per child, while in Kuala Lumpur (22nd) expat parents can expect to pay US$492 per month for each child.
The 10 cities with the most expensive international school tuition fees were:
#1 Shanghai (China)
Tuition fees per month: US$2,783
Average price of rent: US$2,027
Tuition fees as percentage of rent price: 137%
#2 Zurich (Switzerland)
Tuition fees per month: US$2,057
Average price of rent: US$3,451
Tuition fees as percentage of rent price: 60%
#3 Geneva (Switzerland)
Tuition fees per month: US$1,863
Average price of rent: US$3,711
Tuition fees as percentage of rent price: 50%
#4 Lausanne (Switzerland)
Tuition fees per month: US$1,813
Average price of rent: US$2,528
Tuition fees as percentage of rent price: 72%
#5 Seoul (South Korea)
Tuition fees per month: US$1,695
Average price of rent: US$1,906
Tuition fees as percentage of rent price: 89%
#6 Singapore (Singapore)
Tuition fees per month: US$1,637
Average price of rent: US$2,615
Tuition fees as percentage of rent price: 63%
#7 Brussels (Belgium)
Tuition fees per month: US$1,599
Average price of rent: US$1,348
Tuition fees as percentage of rent price: 119%
#8 Tokyo (Japan)
Tuition fees per month: US$1,463
Average price of rent: US$2,777
Tuition fees as percentage of rent price: 53%
#9 Vienna (Austria)
Tuition fees per month: US$1,383
Average price of rent: US$1,478
Tuition fees as percentage of rent price:  94%
#10 Hong Kong (Hong Kong)
Tuition fees per month: US$1,226
Average price of rent: US$4,864
Tuition fees as percentage of rent price: 25%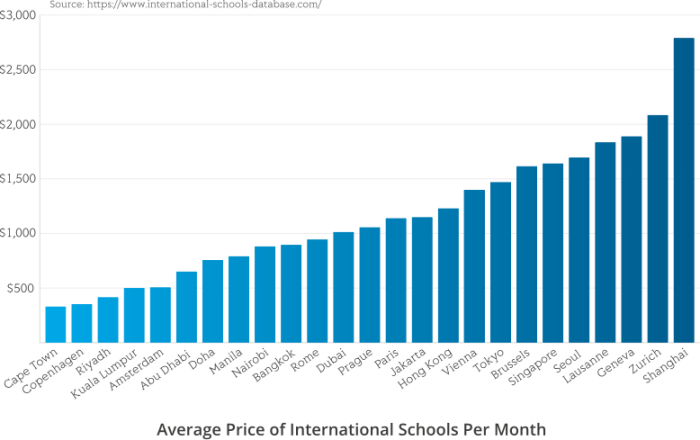 Photo / 123RF