Back in Hong Kong for its fourth year on September 5 at the Hotel ICON, Learning and Development Asia is bigger and better than ever before and earned its reputation as the most influential L&D strategy event in Asia.
Pre-order your tickets now!
Contact us now for an amazing group discount
According to a survey by online money transfer service TransferWise, 85% of Singaporeans would like to live outside of Singapore.
The study which surveyed more than 1,000 Singaporean citizens and PRs also revealed that seven in 10 Singaporeans (69%) want to work remotely to travel the world. This is especially so for younger Singaporeans as 74% of 15 to 34 year-olds expressed this sentiment.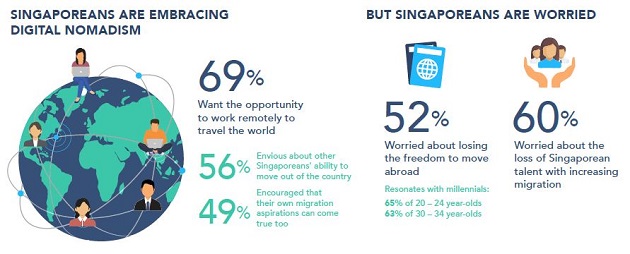 Top countries of choice for long-term migration include Australia, New Zealand, Japan, Canada, and the United Kingdom (in order of preference).
Additionally, only 18% of Singaporeans want to move abroad for good, while half of Singaporeans want to live abroad for up to five years.
ALSO READ: Future trends and challenges of employee mobility
In terms of desire to move abroad, those in the healthcare industry ranked the highest at 92% while Singaporeans in the technology (91%) and manufacturing industries followed (88%). Those working in the government had the least desire to move abroad (78%).
Two-thirds (60%) of respondents say they are worried about the loss of Singaporean talent with increasing migration, while more than half (52%) note their inability to part with their loved ones as a major obstacle to migration – with more women (58%) citing this reason than men (45%).
TransferWise head of banking, Lukas May said: "Singaporeans are optimistic about a well-connected world as their vision of the future. As technology continues to make the global movement of people, money and ideas easier, we expect the future landscape of work and life will accelerate in this direction of a more open world."
Graphic / TransferWise

Asia's most renowned regional HR Excellence Awards is back in October in Singapore and Malaysia to sieve out HR's finest gems. Are you a diamond in the rough? View the categories and find out more.