Tata Communications has launched a new caregiving policy globally featuring enhanced support for its employees who are primary and secondary caregivers. The new policy includes increased leave for child, elderly as well as spouse care – all part of the firm's efforts to ensure that employees have sufficient time for family care.
The key highlights of this policy include:
26 weeks of paid parental leave for primary caregivers (irrespective of the gender) to take care of their new-born child or their adopted child under the age of one;
Two weeks of paid parental leave for secondary caregivers to their new-born or adopted child;
Six weeks of paid childcare leave in case of a serious medical condition or special-needs child;
Long leave for dependent care of up to 12 months unpaid in case of a critical medical condition of a dependent (child, spouse or parent).
Here are further details on Tata's new caregiving policy in comparison to Singapore's statutory standard: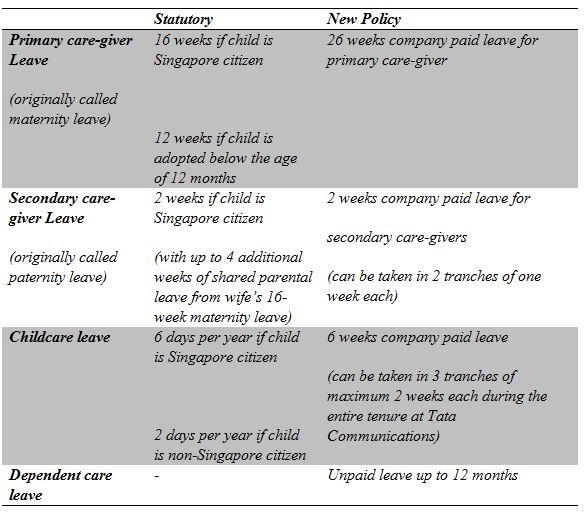 The new caregiving policy is applicable to more than 8,500 Tata employees, irrespective of gender, across 38 countries. Additionally, the parental leave policy is applicable in cases of adoption and foster placement.
Lead Photo / 123RF
Table / Tata Communications