If you've ever wondered exactly what people get up to at home in the morning before starting their day, now you know.
IKEA's latest Life at Home survey decided to take a look at the morning habits of more than 1,000 people from Berlin, London, Moscow, Mumbai, New York, Shanghai and Stockholm to find about more about how we tend to operate once we wake up.
Why this survey was conducted, I'm not entirely sure, but now we are privy to statistics such as 17% of New Yorkers like to work while sitting on the toilet and 13% of people from Mumbai like to have morning sex, which is all very important information.
The study covers quite a lot of ground, and the digital version of it, which includes a "data mixing board" letting you compare cities by different variables, is actually pretty cool.
So because it's Friday, here are some of the more interesting statistics to come out of the survey.
Who knows, you might learn a thing or two about the morning habits of your employees.
14% of people in Moscow like to cuddle in bed, compared with 6% in both New York and Paris
20% of New Yorkers like to pray in the morning to help with self-reflection
77% of people in Shanghai always have breakfast, while 43% of Berliners don't
When people are stressed in the mornings, they are less likely to talk to their children: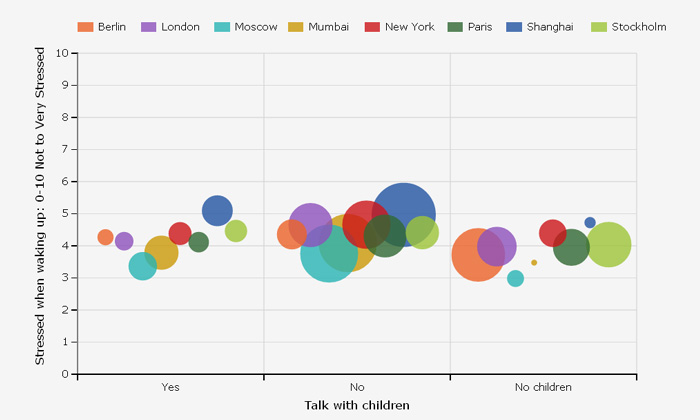 56% of people in London don't see themselves as "morning people"
Just 2 out of 10 people in Shanghai put on makeup in the mornings
77% of people in Paris think it's important to give their partner a hug or a kiss in the morning but only 30% actually do
New Yorkers work on the toilet more than anyone else in any other city
Go here for the full survey.
Image: Shutterstock