This Valentine's Day is going to be a busy day for your attached employees.
According to the latest Mastercard Consumer Purchasing Priorities Survey, half of people across Asia Pacific plan on marking the day of love by going out for a special meal (48%), and treating their loved ones to gifts (44%).
People in China are the region's most ardent lovers, with three in four planning to purchase gifts for their special some-ones. Other amorous countries include Thailand at 74%, with Malaysia and Philippines following at 63% each.
Three in five of Hongkongers as well as 58% of Singaporeans also have plans to buy a Valentine's gift for loved ones. Let's just hope they don't shop for these gifts while at work.
The top three gifts to purchase are flowers (31%), clothes and leather goods (20%), and jewelry (17%).
Although flowers reign as the gift of choice, according to the second annual global "Mastercard Love Index" – created by analyzing credit, debit and prepaid card transactions over a three-year period – its popularity may not last till next year, as sales of flowers are wilting in Asia Pacific, having seen a 34% decrease in transactions between 2014 and 2016.
Across Asia Pacific, men and women were found to show love differently when choosing gifts to purchase. Men favor flowers as a gift (40%), whereas women prefer buying clothes and leather goods (28%).
Choice of gifts also differ from country to country, with a majority of those in Singapore (28%) preferring to buy clothes and leather goods, while the bulk of those in Malaysia (27%) and Hong Kong (26%) prefer to buy flowers.
ALSO READ: Number of office romances highest since 2007
The survey also found that people in the region are a pretty lavish buncplanning to spend on average USD133 on gifts for their loved ones.
People in Greater China lead the pack, with China (USD310) as the most generous, followed by Hong Kong (USD282) and Taiwan (USD271). While Singaporeans are expecting to spend an average of US$194 on their gifts, and Malaysians are expecting to spend US$155.
Men in Asia Pacific plan to spend around 25% more than women on gifts.
Meanwhile, people in Asia Pacific still value a personal touch, with 85% of transactions around Valentine's Day made in person.
At the same time, the Mastercard Love Index also revealed that technology is helping fire cupid's arrow with Asia Pacific having seen an 81% increase in online sales over the last three years.
READ MORE: What's common to cupid and corporate recruiting
Georgette Tan, senior vice president, communications, Asia Pacific, Mastercard said "When it comes to expressing love on Valentine's Day, Asia Pacific consumers are still sticking to traditional favorites including flowers and going out for a nice meal. Celebrated across cultures, Valentine's Day continues to be one of the biggest spending days around the world, with young and mature consumers enjoying the merriments associated with this special day."
While Valentine's Day may be a day for love, it's not necessarily one for marriage, as 64% of people in Asia Pacific would not consider wedding on the day itself.
A similar situation is seen in Singapore and Malaysia, where only 36% and 41% feel Valentine's Day is the best day to propose/ receive marriage proposal respectively.
In contrast, romantics in Vietnam (76%), China (68%) and Taiwan (51%) believe it is the best day to propose or receive a marriage proposal.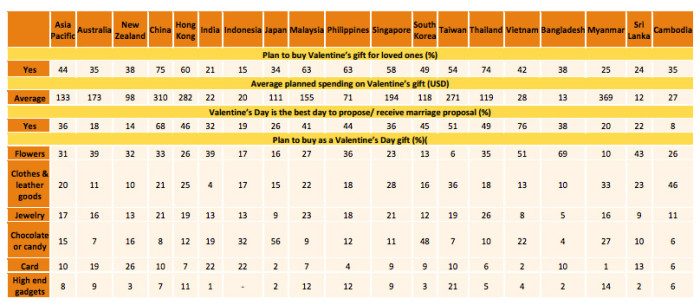 Photo / 123RF