Excessive sitting (more than three hours a day) is responsible for 3.8% of deaths every year, i.e. 433,000 deaths annually, in a study of 54 countries, including nations in Southeast Asia.
Eliminating sitting time altogether could increase life expectancy by 2.4 months, or 0.20 years.
The researched countries represented 25% of the global adult population, among which 4% was Southeast Asian, pointing to an average daily sitting time of 4.7 hours. This shot up to 6.2 hours a day in Western Pacific countries, while it dipped to 4.2 hours a day in American countries.
A number of recent studies have quantified the risks associated with prolonged sitting – for instance, a meta-analysis concluded that for each one-hour increment in sitting time, mortality risk increases by 5%.
This latest study was conducted by Leandro Fórnias Machado de Rezende from University of Sao Paulo School of Medicine; Thiago Hérick de Sá and Leandro Martin Totaro Garcia from University of Sao Paulo School of Public Health; Grégore Iven Mielke from University of Pelotas; Juliana Yukari Kodaira Viscondi from Clinics Hospital of Faculty of Medicine; Juan Pablo Rey-López from University of San Jorge.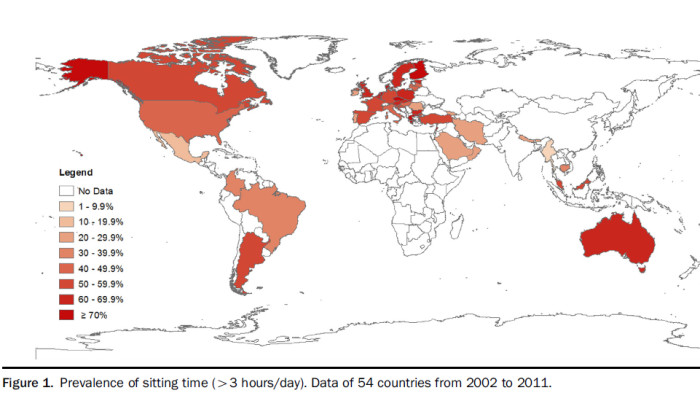 On the flipside, the researchers found that even modest reductions, such as a 10% reduction in the mean sitting time, or 30 minutes, could have an instant impact in mortality (0.6%) in the 54 countries.
Bolder changes, for instance a 50% decrease or two hours fewer sitting time daily, would represent at least three times fewer deaths versus the 10% or 30-minute reduction scenarios.
Loading ...
Why should employers care about these hazards of a sedentary lifestyle? Share your views with us in the comments below.
Photo / 123RF