Singapore National Employers Federation (SNEF), MHI Global and the Singapore Institute of Management (SIM) have been chosen by HR professionals as the top places to send sales professionals for training in Singapore.
The rankings have been announced as part of Vendors of the Year 2014, an annual special edition published by Human Resources, based on a Singapore-wide survey of the preferred vendors, service providers and consultants used by HR professionals and business leaders.
In first place, SNEF has rocketed up this year's rankings after coming in sixth place in 2013. MHI Global has also climbed up the rankings into second place, after coming in at number seven last year as AchieveGlobal Asia. SIM has held steady at third place.
Stephen Yee, assistant executive director and senior director of training at SNEF, said the federation increase its number of training programmes by around 10% in 2014.
Gregory Moore, managing director Asia at MHI Global said the combining of five "powerhouse sales-performance companies" – Miller Heiman, AchieveGlobal, Huthwaite, Impact Learning Systems and Channel Enablers – now means MHI Global is the largest dedicated sales-performance company in the world.
Where companies had to previously work with each of these business separately, now the knowledge and expertise is under one roof.
"As a result of bringing these businesses together, MHI Global now offers a suite of comprehensive sales performance solutions from transactional velocity selling to strategic complex selling," he said. "And we're not finished – not even close.  There are other areas of expertise we'll continue to seek as we continue to strengthen our value to sales leaders globally."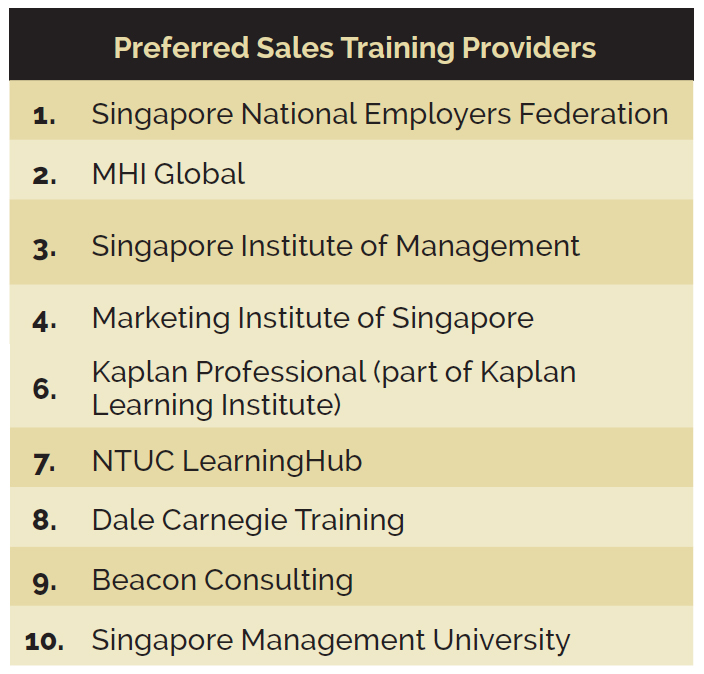 MORE VENDORS OF THE YEAR 2014
Singapore's top recruitment websites
The 10 most preferred recruitment agencies
Singapore's best C&B consultants
Singapore's top relocation specialists

Now in its ninth year, Vendors of the Year provides a ranking of the most preferred vendors, service providers and consultants used by HR and C-suite professionals to recruit, manage and develop talent in Singapore.

More than 125 companies were highlighted as the preferred vendors across 17 categories. These categories cover recruitment, employee healthcare, compensation & benefits, relocation, training venues, serviced apartments, payroll, training and more.
Results are gathered from Human Resources' annual HR Trends Survey of 17,723 professionals, made up of senior-level HR professionals (84%) and top management, including general managers, managing directors and CEOs (16%).
MORE VENDORS OF THE YEAR 2014
The top employee healthcare providers in Singapore
The best employee insurance vendors
Singapore's best succession planning consultants
Singapore's 10 best serviced apartments
HR's preferred management training providers
Companies from various industries and of varying sizes are well-represented. Senior professionals from both multinational and small and medium-sized firms were included in the survey, with the biggest industries represented including business services (16%), IT & telecommunications (13%), travel (10%), and financial services and energy, utilities & government (both 9%).
Of these respondents, 60% had either regional or international responsibilities, while 40% had domestic responsibilities in Singapore.
To read the full digital version of Vendors of the Year, click here.
To see the entire list of winners, click here.