It's been more than two years since Singapore made headlines for being ranked the second unhappiest workforce in the world, but unfortunately, things haven't picked up a whole lot since then.
A newly released study by Ipsos APAC and Toluna found Singapore is the second least happy country in Asia Pacific, with 24% of respondents indicating they were either "not happy" or "not happy at all".
This is a 5% drop from the previous survey eight months earlier (Q3 2013).
Also read: Singaporeans not "emotionless" anymore
According to the report, the least happy country in the region was Japan, where 32% said they were either feeling pretty glum: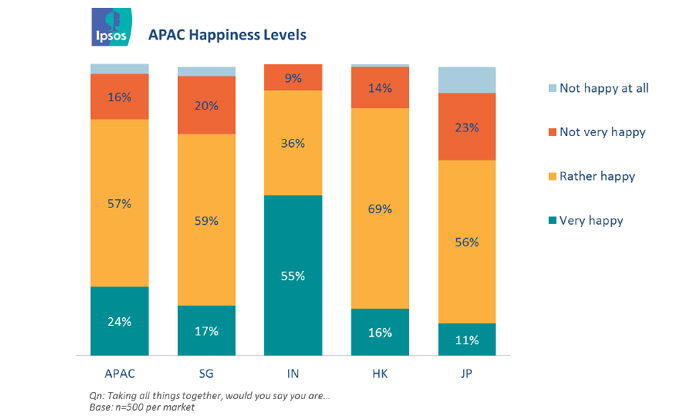 Most Singaporeans blamed their unhappiness on their personal financial situation (62%), health (38%) and spouse (35%). Finances and health were also the two factors which came out on top as key unhappiness drivers across the region.
Additionally, the study, which included 2,500 participants from Singapore, Hong Kong, Japan and India aged 18 to 50, found Singaporean men were less happy than women (28% versus 19%).
"With increasing number of women entering the workforce and rising independence, a multitude of avenues arise via which women can derive their happiness," Miranda Cheung, MD of Ipsos Singapore, said.
Singaporean residents shared their spouse (46%), health (44%) and relationship with parents (38%) were the three top factors for their happiness.
Across the region, India had the highest happiness score at 91%. There, 45% of respondents said their relationship with their parent was the biggest reason for their happiness, followed by their spouse (43%) and their health (28%).
Hong Kong cited health (52%), relationship with parents (45%) and spouse (38%) as their biggest happiness factors, while  Japanese respondents identified health (54%), living conditions (48%) and relationship with parents (47%).
But what are causing these respondents grief? Here are the top unhappiness factors across the region: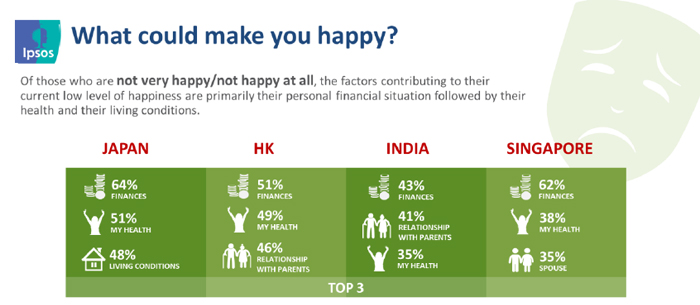 Also read: 80% of Singaporeans are unhappy with their salary
Image: Shutterstock