According to a new release by the Passport Index, Singapore has tied with Germany as the world's strongest passport with both countries having a visa-free score of 159.
While Singapore was previously second on the Global Passport Power Rank, this changed after Ukraine extended its visa-on-arrival travel to passport holders of Singapore for up to 15 days. This resulted in Singapore's total visa-free score to 159 from 158, making the passport as powerful as Germany's.

The Passport Index visa-free free score consists of a score for visa-free travel and a score for visa-on-arrival, with visa-free travel weighing more. Germany still holds first place on individual rankings, while Singapore (second on individual ranking) has a visa-free score of 122 and a visa-on-arrival score of 37.
With the power of global mobility, some of the visa-free destinations that Singapore passports can benefit from include China, Turkey, United Kingdom, amongst others; with visa-on-arrival to Armenia, United Arab Emirates, Maldives, and more.
ALSO READ: Global employee mobility in 2017: 5 trends to watch
As for other Asian countries, Malaysia ranks 4th (together with Japan, Switzerland, Belgium, and more) with a visa-free score of 156 comprising 119 in visa-free and 37 in visa-on-arrival.
On the other hand, Hong Kong passports rank 17th on the list with a visa-free score of 141 comprising 108 in visa-free and 33 in visa-on-arrival.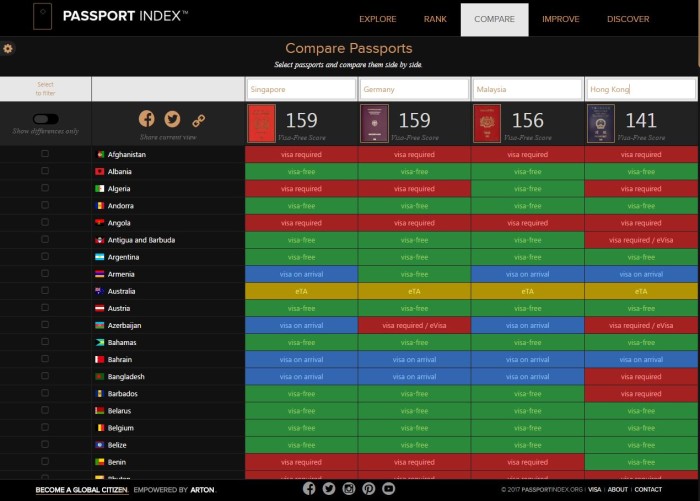 Top 10 strongest Asian passports and their global rankings
1. Singapore
Passport power rank: 1st
2. South Korea
Passport power rank: 3rd
3. Malaysia, Japan
Passport power rank: 4th
4. Hong Kong
Passport power rank: 17th
5. Israel
Passport power rank: 20th
6. Brunei
Passport power rank: 21st
7. United Arab Emirates
Passport power rank: 27th
8. Taiwan
Passport power rank: 31st
9. Macao
Passport power rank: 32nd
10. Russian Federation
Passport power rank: 41st
Lead Photo / Passport Index
Table / Passport Index 

"Informative, Interactive, Inspiring. The conference brings new ideas and insights about current issues in talent and HR management"
Join the seventh annual Talent Management Asia, Asia's leading HR strategy conference.
Register now for early-bird savings!