Back in Hong Kong for its fourth year on September 5 at the Hotel ICON, Learning and Development Asia is bigger and better than ever before and earned its reputation as the most influential L&D strategy event in Asia.
Pre-order your tickets now!
Contact us now for an amazing group discount
Singapore is now officially the most expensive city to live in, climbing four spots on The Economist Intelligence Unit's Worldwide Cost of Living Survey, beating Paris, Oslo and Zurich.
According to the report, Singapore's strong currency, which has seen a 40% appreciation over the past decade, and high levels of inflation are some of the factors that helped the city knock Tokyo down from first place to sixth.
Thanks to the expensive certificates of entitlement for vehicles, Singapore's transportation costs are three times that in New York. Additionally, the lack of natural resources here, and hence dependence on other countries for supplies such as energy and water, have driven up prices for utilities.
Scoring 130 points on the index, Singapore beat Paris (129), Oslo (128), Zurich (125) and Sydney (120).
The report compared more than 400 individual prices across 160 products and services, including food, drink, clothing, household supplies, home rents, transport, utility bills, private schools, domestic help and recreational costs.
But Asia isn't just home to some of the most expensive cities in the world.
Mumbai would be an ideal location for those looking for more value for money, as it was found to be the least expensive city in the world with an index of 39. Coming in second least expensive was Karachi (40), followed by New Delhi (43), Damascus (44) and Kathmandu (44) rounding up the top five.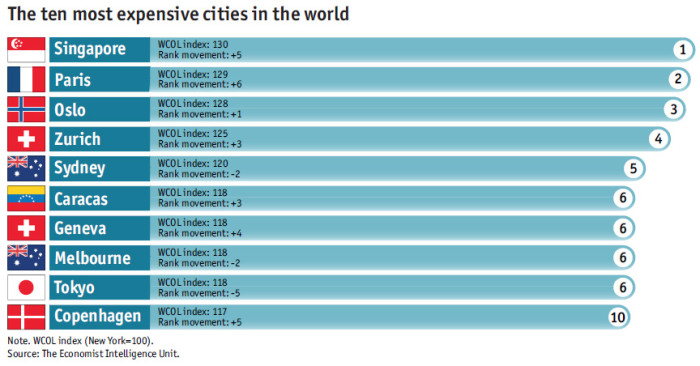 Back in Hong Kong for its fourth year on September 5 at the Hotel ICON, Learning and Development Asia is bigger and better than ever before and earned its reputation as the most influential L&D strategy event in Asia.
Pre-order your tickets now!
Contact us now for an amazing group discount