I am an absolute LinkedIn fan. I check in three times an hour, I keep track of colleagues and professional contacts and follow business news online.
But I'm not sure when LinkedIn became the new OKCupid.
About a year ago, a well-meaning colleague suggested I conduct a social experiment and include my extensive LinkedIn network into my own personal dating pool. I thought the idea was ludicrous, but then I started getting the occasional message from contacts that were a) not in my line of profession and b) were connecting for the sole purpose of meeting for after-work drinks.
I also learned the hard way that when I reply to a LinkedIn message straight from my office outbox, the reply is sent from my work email, which includes my work signature and my mobile number.
I should have seen what happened next coming from a mile off. The online messages became WhatsApp texts, which then just started bordering on inappropriate.
To be honest, I get why people would harness their contact list and try and find a potential date, or even life partner. Online networks work perfectly as a means to find out almost everything you need to know about a person.
There's a photo, all your qualifications and achievements and your current job, which when cross referenced with any salary guide found online, will provide you with a ballpark salary range. It even has testimonials if you need that extra layer of insight into someone's personality.
Again, I can see the logic behind using a professional networking site to broaden your social circle, but once you start getting messages like the one I'm sharing below (which is 100% legit and fairly recent), you'll understand why I find it all a bit creepy.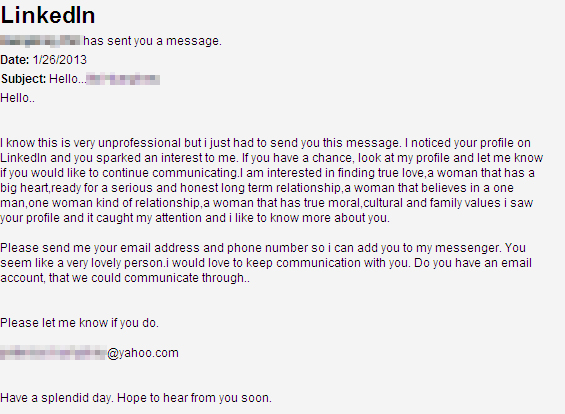 I've shared my conundrum with a few friends and while some have reciprocated with their own tales, most are still equal parts baffled and amused.
While I admit it is flattering, I would really rather just stick to using my professional networking sites for the purposes they were created for.
However, if you have tales of online (and offline) office romances, please share them with us online at our Facebook page. I may not be the biggest fan of workplace romances (if I wanted the drama, I'll just watch another episode of Grey's Anatomy), but I'm always up for a good juicy story.
And besides, if there is one day you should indulge in a bit of flirty fun at work, I reckon it would be today.
Have a lovely Valentine's Day.