The distinctive culture of Hong Kong Broadband Network (HKBN) has made it one of the more popular employers in Hong Kong.
The competition for trainee positions at the company is highly competitive.  This year, the company received 2700 applications for its summer innovator and marketing & finance trainee positions.
This means standing out and landing the job is extremely intense, in fact, only the top 5% or around 120 applicants are granted interviews to compete for 19 openings.
To help candidates prepare for the recruitment process, HKBN's co-owner and COO NiQ Lai issued a letter to candidates with tips on how they can get hired by the company.
The intention of the letter according to HKBN in a statement to Human Resources was to give the applicants advice and aid their long-term development. The letter later received criticism online with one local media outlet describing it as, "arrogant".
Here are the highlights of what Lai told candidates.
We only want the best of the best
In the letter, Lai made it very clear HKBN only looks for talent who are 10 times better than average.  He wrote "At HKBN, we say don't waste time telling me "my mother is a woman", rather tell me why "my mother is beautiful".
Impress with one's cover letter
Many human resources practitioners are frustrated by standard cover letters from applicants. Lai made it clear to candidates that these letters will go straight to the recycle bin.
Be prepared
Most candidates look at the organisation they applied to's website and annual reports before an interview. Lai challenged HKBN internship hopefuls to take it to another level and look at websites and annual reports of competitors and present him with solid ideas on how they can help the company improve.
HR professionals, what do you think of issuing a letter of encouragement to applicants?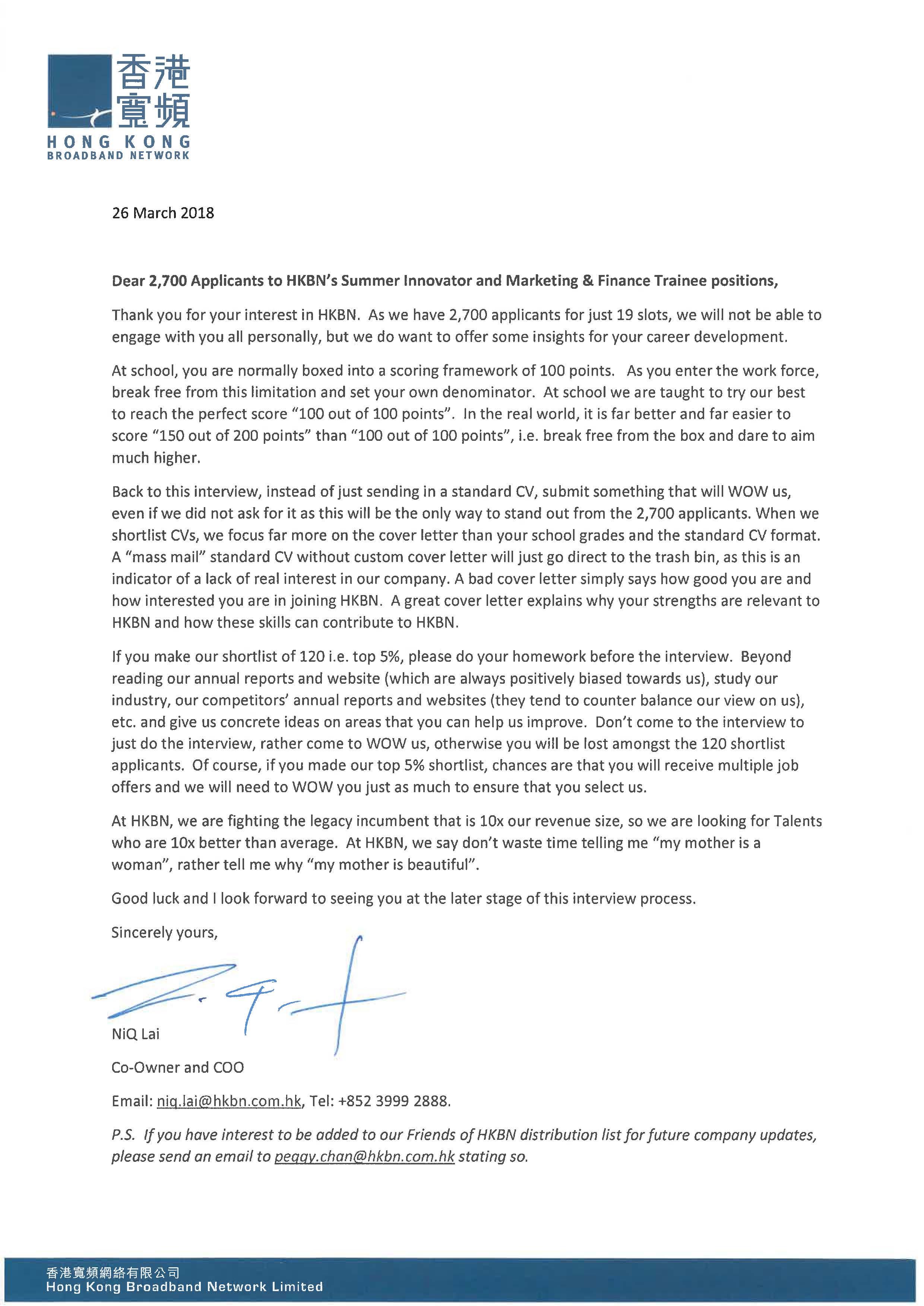 Letter/ Provided by Hong Kong Broadband Network
ALSO READ: Q&A with Hong Kong Broadband's NiQ Lai