Yesterday (Jan 16), Singapore's Corporate Governance Council presented their recommendations to revise the Code of Corporate Governance for listed companies in the country.
Among proposed changes to the code includes ways to address issues of ambiguity related to the "particularly rigorous review" of the independence of IDs who have served more than nine years – i.e. the "nine-year rule".
Two recommendations on the "nine-year rule" have been proposed: either setting a hard limit or put it to an annual two-tier shareholders' vote.
This recommendation is one of the baseline corporate governance requirements the council wants to add to the SGX Listing Rules for all listed companies to comply with.
Under the current code, "the independence of any director who has served on the Board beyond nine years from the date of his first appointment should be subject to particularly rigorous review. In doing so, the Board should also take into account the need for progressive refreshing of the Board. The Board should also explain why any such director should be considered independent."
However, the consultation paper noted: "In practice, almost 30% of IDs (based on data from SGX-listed entities) serve over nine years, of whom some have served for more than 30 or 40 years. In assessing the independence of such directors, the factors constituting a "particularly rigorous review" remain ambiguous, and boilerplate disclosures with scant justifications underlying the independence assessments were common."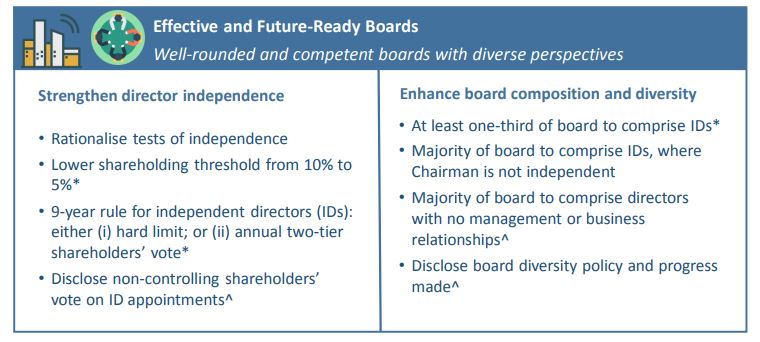 Another guideline to be shifted to the SGX Listing Rules is for least one-third of board to comprise independent directors, as a means of enhancing board composition and diversity.
In terms of transparency of remuneration practices, the council recommends that the details of remuneration of employees who are immediate family members of a director or the CEO and whose remuneration exceeds S$50,000 during the year, should be disclosed.

Chew Choon Seng, council chairman, commented on the package of recommendations: "It seeks to encourage companies to move away from a compliance mindset and adopt thoughtful corporate governance practices that will best support their long-term business objectives."
The council is also currently seeking feedback from any interested parties on the recommendations.