The information technology (IT) industry continues to pay the highest salaries across all position levels in 2016, according to JobStreet's National Salary Report.
This is the third straight year that the IT industry topped the survey. The results are based on JobStreet.com job postings from October to December 2015.
The JobStreet report showed managers in IT-related fields earned the highest average monthly salary at P86,550 in 2015. Supervisors (employees with five or more years of work experience) in the IT-related industry also received the highest average monthly salary at P63,485. JobStreet.com Philippines Country Manager Philip A. Gioca reported that IT junior executives (employees with one to four years of experience) earned an average monthly salary of P38,149.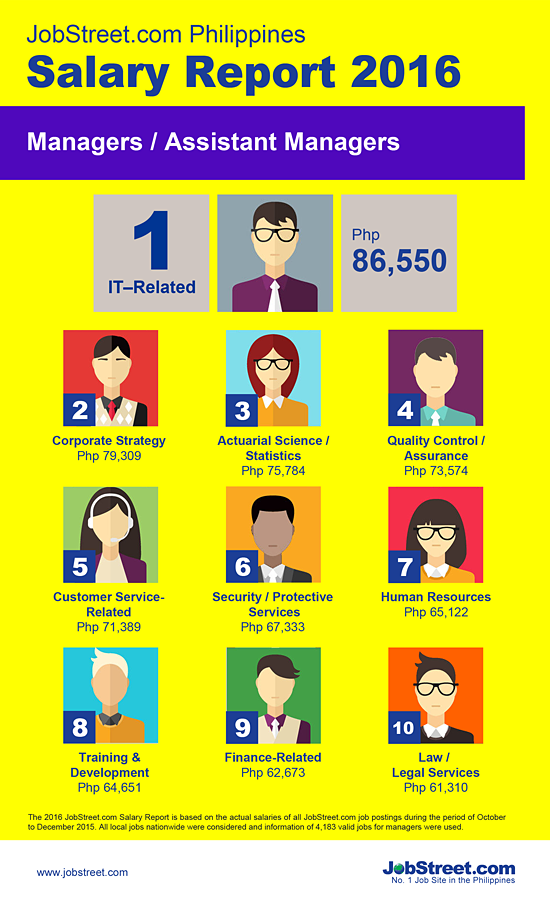 Salaries on average across the top jobs increased by 10% in 2015, due to the country's economic growth, low unemployment, and competitiveness in the job market.
Other top-paying jobs at the manager level are in corporate strategy, actuarial science/statistics, quality control/assurance, customer service, security/protective services, human resources, training and development, finance, and law/legal services.
In terms of number of jobs, the business process outsourcing industry continued to rank first, with 260,278 jobs in 2015, which is one-third of the 781,766 jobs advertised on JobStreet.com.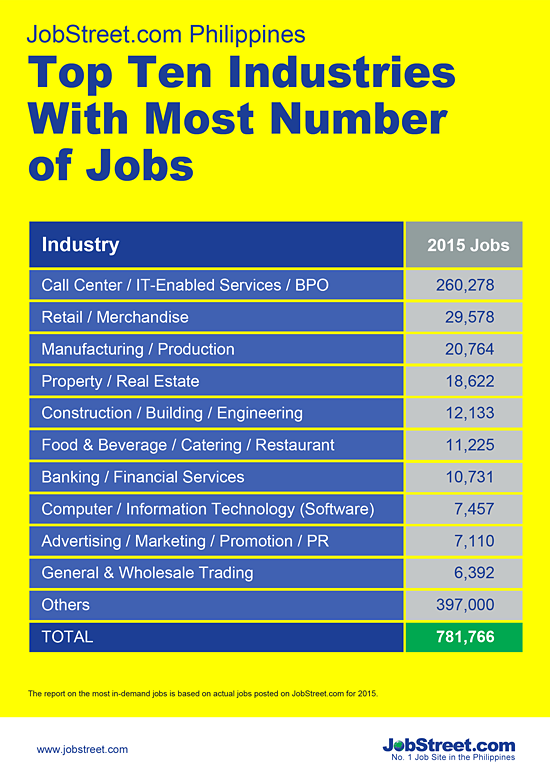 This was followed by the retail industry, manufacturing, real estate and construction.
JobStreet.com is a leading online job board covering employment markets in Hong Kong, Thailand, Malaysia, Singapore, Indonesia, and Vietnam. It presently services more than 230,000 corporate employers and over 15 million job seekers in its database.