If you're anything like the typical executive, chances are emails, phone calls and formal meetings take up most of your day.
But it make be time to hit the breaks on these time-consuming activities. According to a report by Jones Lang LaSalle (JLL) there is a massive disconnect between these common office activities and they value they contribute to the company.
The report, which studied the working habits and productivity of 381 respondents, found while staff spent 42% of their time on emails, 11% in formal meetings and 5% on the phone, the value those activities created for the organisation were only 6%, 5% and 4% respectively.
That's a fair amount of wasted time, energy and resources.
However, on the flip side, simple things like brainstorming and "thinking" can contribute a lot more value than you might think.
Employees who said they spent 6% of their time thinking, 7% brainstorming and 11% talking found it added 21%, 35% and 18% value respectively. But while 74% of respondents acknowledged those activities yielded the most value, only 24% spent their time of those activities.
"These are the activities that generate insights, enable solutions and facilitate flows of information and ideas," the report stated, adding many workplaces "are not equipped to facilitate the required balance of focused and collaborative work".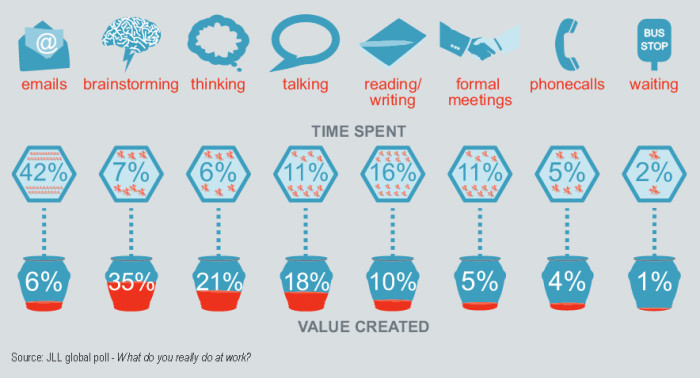 So what can companies do to make sure their employees are able to focus of activities and work that provide the most value for the organisation?
JLL suggests providing a collaborative environment where employees are able to work in smaller groups towards a collective goal, having concentrated work where employees can focus on a central task, and increasing the number of face to face opportunities.
"The interactions could occur at a desk, at the water cooler, or even virtually, via video conference," the report said. "The ability to look someone in the eye is crucial."
However, the report acknowledges there isn't a one-size-fits-all answer. For example, a sales-driven company might benefit more from employees spending time on phones, while a creative consultative company may require staff to spend more time working with one another.
"Providing a workplace that enables your staff to spend more time on the activities that create value for your business will often better enchance productivity than squeezing in more people or optimising utilisation rates," the report said.
Image: Shutterstock