Just today, news.com.au published an article which reported the seven things you should never talk to your colleagues or boss about.
This list included sex, opinions, gossip, what you drank over the weekend, your frustrations, big mistakes you've made and major life events.
With the exception of the first two, particularly when it comes to my opinions about religion and politics, I have pretty much broken the rules. And I have no regrets.
Gossip
I'm not a huge gossiper but I understand its benefits. While I would never gossip with the intention to upset someone, it never hurts to share a juicy story or two over lunch or at the water cooler. Gossip can be good when done right.
What you drank over the weekend
According to the article, manners expert Anna Musson said doing so will make your boss wonder if you might display the same lapse of judgement at work. But unless you're drinking at work, I don't see how this is an issue. Enjoying a weekend shows you know how to balance work and life, and as long as you're not getting into trouble, didn't get injured or arrested, a little fun goes a long way.
Your frustrations
If I'm being honest, there isn't a day that goes by where I'm not at least once frustrated about something. It's either a deadline got pushed back, a meeting got pulled forward, my computer has crashed for the third time in the morning or just being unable to find something under the mess I call my desk. Frustrations are a daily and natural part of working life, and bottling it in spells plain disaster.
*But let's try and keep the cursing and screaming to a minimum. We have to draw a line somewhere.
Big mistakes you make
Making mistakes, admitting you've made them and turning them into a learning experience is the only way you can grow and move forward – particularly so with your manager. My bosses have done an excellent job of creating an environment where I feel it's all right to 'fess up to something I've done wrong and ask for help where and when I've need it. Working in a place where you feel you can't fail or can't admit to failure is not a conducive (or innovative) working space.
Major life events
I not only share major life events but also minor ones with my boss and colleagues. It doesn't matter if my god-brother is expecting his first child or I managed to complete a 5k run without passing out, sharing my moments with the people I spend at least nine hours a day with makes sense. If I can't bring my whole self to work, why turn up at all?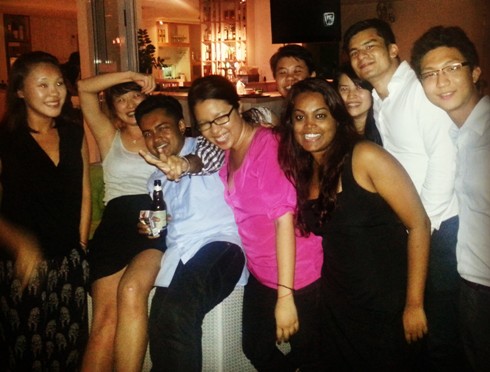 A study by Lancaster University earlier this year found friendships forged at work – especially under stressful situations – are some of the best and strongest friendships you can have.
"The workplace certainly offers shared experiences, challenges and stresses that can act to bond people, but it also throws people together and facilitates friendships which may not have developed elsewhere," Anne Cronin, the study's lead researcher, told Daily Mail.
So there you have it – proof why it may not be all that bad to be a little bit more open and honest at work.
If you'll excuse me, I'll be joining some of my colleagues – and best friends – for lunch now.