With more employers starting to use digital channels to attract candidates, it is surprising to see that online hiring in Singapore has been declining year-on-year.
According to the latest Monster Employment Index, the overall online recruitment activity in Singapore has dropped by 5% year-on-year.
However, the monthly index for May 2015 has increased since April 2015 when an 8% year-on-year decrease had been recorded.
Out of 12 occupations monitored, hiring activity for HR & admin roles saw the fifth lowest growth of -6% while hospitality & travel roles and marketing & communications roles grew the least with a -11% and -8% growth respectively.
On the other hand, real estate roles (10%) and software, hardware and telecom roles (3%) saw one of the biggest growths.
Industry wise, the education industry saw the biggest growth of 3% while the health care industry came in second with a growth of 0%.
Of the 14 industries monitored, for the third time in a row, the consumer goods/FMCG, food & packaged food, home appliance, garments/textiles/leather, gems & jewellery sector continues to record the lowest growth.
Though the industry saw an improvement from -17% in March to -16% in April, to -13% in May this year.
ALSO READ:
Online hiring in the Philippines plunges 43% year-on-year
Slower growth in Malaysia's online hiring activity for HR jobs
"While this is the fifth consecutive year-on-year decline we've seen since January 2015, the month-on-month MEI results showed an overall month-on-month upward trend," said Sanjay Modi, managing director, Monster.com (India, Middle East Southeast Asia and Hong Kong).
Attributing the decline to global economic uncertainty leading to cautious hiring  in spite of the country's tight labour market, he added, "The decline in the labour-intensive sectors is likely caused by labour constraints."
"Looking at the overall business scenario, we expect hiring activities to pick up in near future, especially in the Finance, Insurance, Real Estate, Public Administration and Education sector."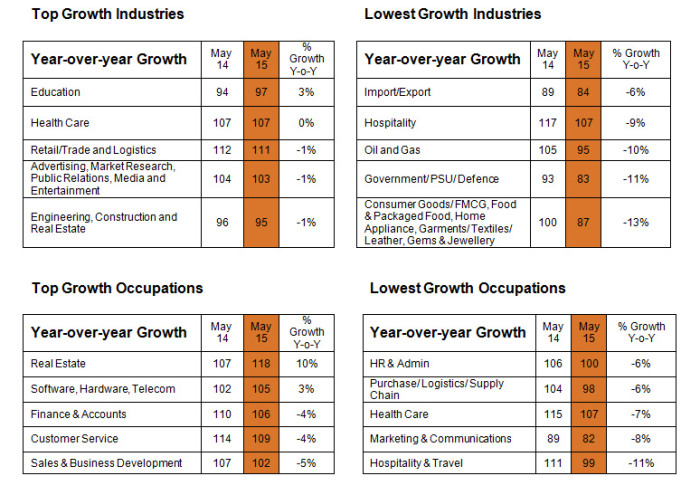 Image: Shutterstock