Strong demand from Mainland financial firms saw the office vacancy rates in Central drop to their lowest level in over six years, in Hong Kong.
As a result, Hong Kong office rents continue to rise, according to  Knight Frank's monthly report.
The office vacancy rate in Central fell to 1.8% in July, the lowest figure in six years because of strong demand from financial firms.
David Ji, Director, head of research & consultancy in Greater China at Knight Frank, explained how the demand for office space in Central was spearheaded by mainland financial firms.
"The bullish stock market in the past couple of months had mainland financial institutions thinking about expanding their business in Hong Kong to take advantage of the stock through trains between Hong Kong and the Mainland," he said.
In July, the net effective rent for premium space in Central was HK$158 per square feet, while the price for traditional Central was HK$112. The average net effective rent for Central was around HK$128.
"The rent of Central is at one of the all-time high points, although it is a slight drop of 2.5% compared to June, it is at a 9% year-on-year increase," said Ji.
ALSO READ: High manpower and rental costs threaten Singapore firms
With such a huge demand for offices in Central, some companies are opting to move to Tsim Sha Tsui, notably the International Commerce Centre.
Ji thinks sustained demand for office space and low vacancy rates will continue to drive up Grade-A office rents.
"Looking forward we believe Central will remain the preferred district for Chinese financial companies and Grade-A office rents are expected to rise year-on-year by more than 10%," he said.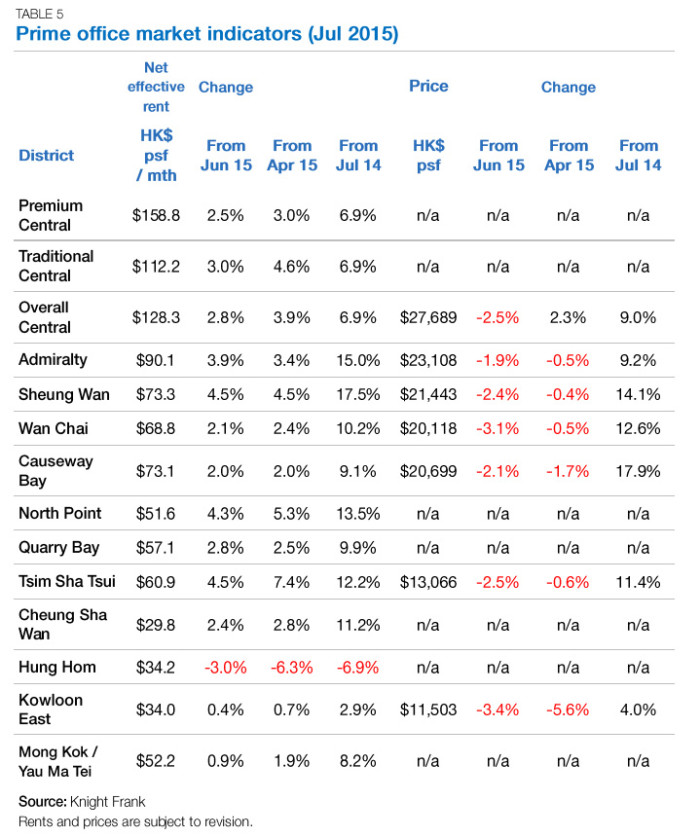 Image: Shutterstock