The new chief executive of Mozilla – the company behind the Firefox web browser – has resigned following huge outcry over a donation he made to opponents of gay marriage in California.
Brendan Eich, who had been in the job for less than two weeks, has "chosen to step down", Mitchell Baker, executive chairwoman of Mozilla posted in a blog.
"Mozilla prides itself on being held to a different standard and, this past week, we didn't live up to it. We know why people are hurt and angry, and they are right: it's because we haven't stayed true to ourselves," she wrote.
"We didn't act like you'd expect Mozilla to act. We didn't move fast enough to engage with people once the controversy started. We're sorry. We must do better.
"Brendan Eich has chosen to step down from his role as CEO. He's made this decision for Mozilla and our community."
Eich became Mozilla's new CEO on March 24, but was quickly criticized by the wider public over a $1,000 donation he made in support of California's controversial Proposition 8 ballot measure in 2011. He also made campaign contributions to Republican candidates outspoken in their opposition to gay marriage.
Eich told the Guardian he would not resign over the controversy when it interviewed him last week:
"I agree with people who say it wasn't private, but it was personal," he said of the donation. "But the principle that I have operated by, that is formalised in our code of conduct at Mozilla, is it's really about keeping anything that's not central to our mission out of our office.
"If I stop doing that now I think I would be doing wrong that code of conduct and doing a disservice to Mozilla. And I really do think it's an important principle of inclusiveness for Mozilla to succeed."
However, it's apparent the story became bigger than Eich's ability to lead among the controversy, and he stepped down.
Among the multiple calls for Eich to step down was dating website OKCupid, which requested its users "forgo using Firefox browser as a form of protest". Any user who entered the site using Firefox was greeted with a message which asked them to switch browsers.
John Lilly, Mozilla's former CEO also chimed in via Twitter after hearing of Eich's resignation.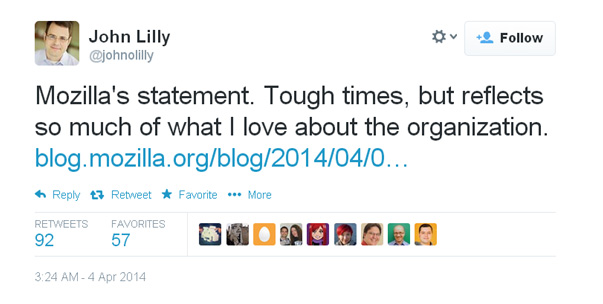 Lilly's post resulted in multiple responses from current Mozilla employees, including someone who said: "Will you come back and be our CEO again?"
Image: Wikipedia