With the number of companies increasing contracting headcount, it is good to know that Singaporean professionals are also open to taking up contract roles.
According to the Page Personnel Singapore Contracting Minute 2018 survey, 3 out of 5 professionals in Singapore were found to accept a contracting role if they cannot find suitable permanent job options.
Surveying 3,861 professionals in Singapore, the survey also found that 60% of the respondents agreed to take on a contracting role if they are unemployed for an extended period of time.
That said, professionals still had several considerations to accepting a contracting role including job insecurity (26%), lack of employee benefits (24%) and a lower sense of belonging to company (23%).
Sharing some key initiatives from companies which helped them be more receptive towards contracting, the respondents revealed that being offered higher than market rate salary (30%), equal benefits as permanent hires (26%), and the assurance of conversion to a permanent role (21%) would make them more open to contracting.
There was an overall optimistic view on contracting with 55% of respondents saying that fixed-term employment will have a positive impact on their long-term career.
The survey also found that a majority (36%) of those who were more receptive to contracting roles had more than 10 years job experience, creating sound industry know-how to apply themselves to a consulting position on specific projects.
Additionally, 23% of those surveyed acknowledged the opportunity to gain exposure to other industries, 20% saw contracting as a foot in the door to a specific organisation and 19% welcomed the work-life balance and flexibility in contracting roles.
Mellissa Mayne, associate director, Page Personnel Singapore, observed that requirements for contracting roles have also seen a shift from generalist to specialist.
Mayne explained: "The emphasis is on multi-skilled employees which means that they are expected to manage a project and maintain daily BAU (business as usual) at the same time. When there is a skill gap in the company, employers hire specialist contractors with the expertise to train their current employees and implement certain systems or projects. Contractors have to be skilled enough to add as much value as possible to the organisation in their limited time there."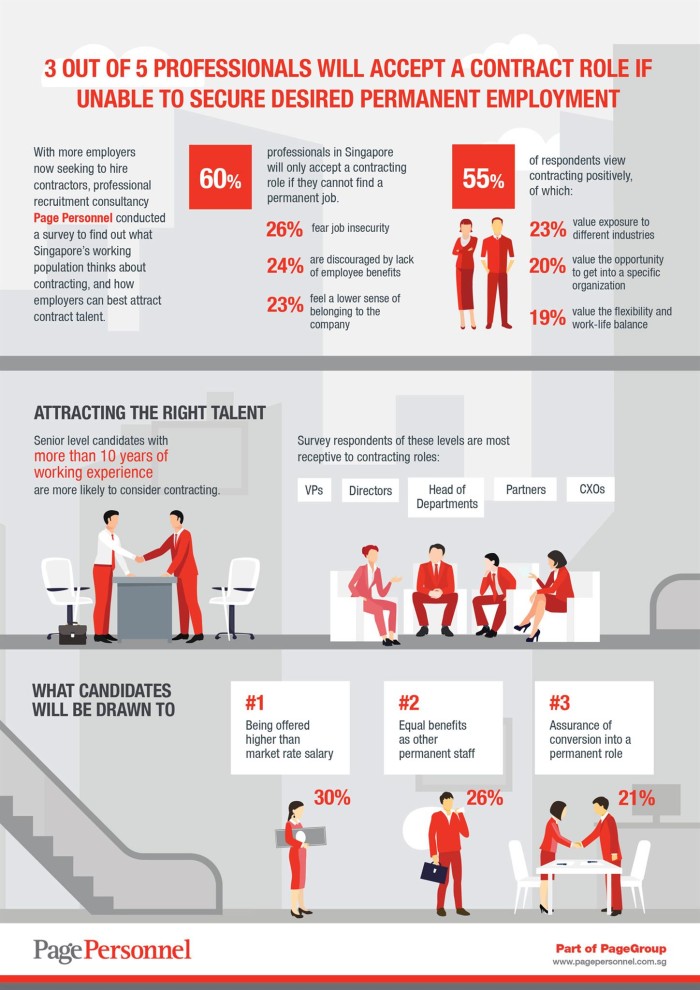 Infographic / Page Personnel
Photo / 123RF