The J.P. Morgan Corporate Challenge Singapore returned for its 14th edition, flagging off from a new start point on St Andrew's Road, next to the Padang. Baey Yam Keng, Parliamentary Secretary, Ministry of Culture, Community and Youth, was the guest-of-honour, amidst 14,301 participants from 324 companies.
Bloomberg's Jasmine Teo and Alphabeta's Fraser Thompson made the dash for gold (winners in the women and men categories respectively) across the 5.6 km scenic route from the National Gallery Singapore to the F1 Pit Building. Top three winners in each category: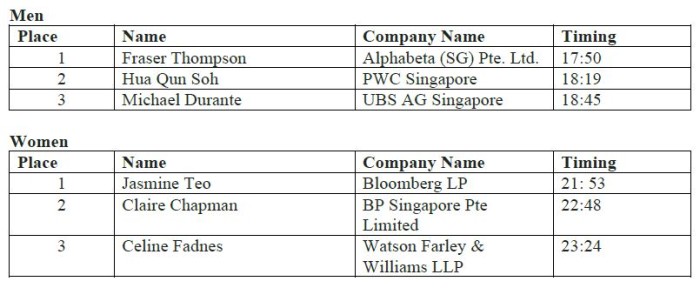 Jasmine Teo of Bloomberg LP, who clocked a solid 21:53, said: "I've been really busy with work and planning my wedding, so this small achievement means a lot to me. The atmosphere was really good; everyone bonded at the start line and the rain actually hyped us up for the run, which also provided a form of adrenaline for me."
With a winning time of 17:50, Fraser Thompson of Alphabeta (SG) said: "I've got a four-month old son, so I haven't been sleeping much and didn't know what to expect! The support, atmosphere and weather were great and I'm really happy with my run, it's a lot better than I hoped."
Human Resources team mates enthusiastically completed the run, joined by colleagues from sister publication Marketing. Team members included:
Nirah Aziz
Joven Barceñas
Soren Beaulieu
Yogesh Chandiramani
Naomi Cranswick
Bernadine Reyla
Czarina Solomon
Priya Veeriah
Evon Yew
The race saw J.P. Morgan making a donation to the Movement for the Intellectually Disabled of Singapore (MINDS). MINDS was represented on the course, with more than 20 persons with intellectual disability (PWIDs). They were accompanied by Olympian C. Kunalan, who was invited to cheer the contingent.
Keh Eng Song, MINDS CEO, commented: "It's especially special for the beneficiaries participating in the Special Olympics (Singapore) in the next couple of weeks, to meet with Mr. C Kunalan and for him to share his experiences with them before the race."
Added Kunalan, whose national record of 10.38sec in the 100m, set at the 1968 Olympic Games in Mexico City, stood for 33 years: "I'm very pleased to be running with the athletes from MINDS, they really inspire me with their determination in spite of their disability."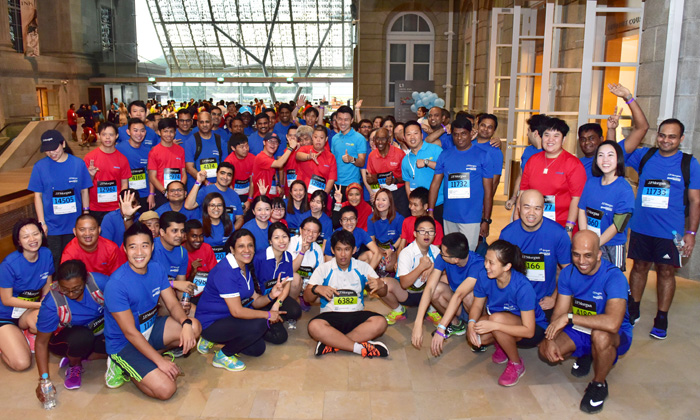 Also new on the course were analysts and interns who will be joining J.P. Morgan soon. They were invited to run alongside their former university peers who have since graduated and are employed with the bank.
The J.P. Morgan Corporate Challenge is Singapore's largest corporate running event by number of participants. The largest participating contingents are: StarHub (552 entrants), Deloitte & Touche (504), SAP (320), AON (300), BNP Paribas (272), Visa (250), Cisco Systems (216), ABN AMRO (196), Standard Chartered (166), AIG (154).
Singapore is the second stop of the 2017 series, which will next next hit Chicago on 25 May.
"The J.P. Morgan Corporate Challenge is a commitment to the corporate community in Singapore, bringing together executives and colleagues for an exciting evening of teamwork and healthy competition," said Edmund Lee, senior country officer for J.P. Morgan Singapore.
In addition, Human Resources spoke to Supriya Doshi, head of Singapore HR, J.P. Morgan:
Q. For the first time this year, JP Morgan is inducting newly-hired university undergraduates as part of the Corporate Challenge. What is the objective behind involving your new hires with the company prior to the official commencement of their tenure?
J.P. Morgan Corporate Challenge is a great way to welcome our incoming interns and analysts as part of the team. They get the opportunity to experience our culture, meet with their future colleagues and peers in a fun and relaxed atmosphere, and engage with them before they start their career with us.
Q. What are the top elements of your typical onboarding process? How long does it take?
Our Future Colleagues Day in February is another event designed to help our incoming interns and analysts prepare for the transition from university to the corporate world.  This is an opportunity for incoming interns and analysts to connect and meet with their future managers and other colleagues before their programmes start in May or June.
Q. The JPMCC continues to be a way to affirm your commitment to health and wellness. What other such initiatives have you taken up in the last one year?
For eight weeks in June and July last year, nearly 74,000 JPMorgan Chase employees from around the world took part in the third annual StepUp for World Hunger physical activity challenge. Together, we tracked 26 billion steps that helped raise $2 million in donations to the following five charities: Feeding Children Everywhere, Feeding America, MANA Nutrition, World Food Program and Stop Hunger Now.
Photos / Provided