Next time you are about to give your young employees a hard time at work, think again.
Millennials are, in fact, the most anxious group of employees in the workplace today – more so than the Generation X and Baby Boomers.
According to a study by Bensinger, DuPont & Associates,  30% of Millennials stated they were anxious at work.
This percentage seemed to decline with age, with only 26% of Generation X and 25% of Baby Boomers stating the same.
The survey also demonstrated the extent to which anxiety contributes to declines in work performance.
Presenteeism of employees was highlighted as the number one anxiety-related work consequence, with over 60% of all participants reporting it as a concern.
This was followed by absenteeism in the workplace.
ALSO READ:
Trashing the myths about Millennials
Millennials are willing to lie to get ahead
5 tips to better manage Millennial managers
Though present in all generations, Millennials were found to be more likely to miss work because of anxiety, while Baby Boomers reported the least amount of absenteeism.
The report attributed this trend to generational differences in attitudes towards work, highlighting that Baby Boomers value visibility at work more so than the other generations.
"This data does not suggest Gen Y experiences the effects of anxiety more intensely than other generations, but that members of Gen Y may be more inclined to call in sick or take a day off when feeling anxious," the report stated.
Baby Boomers, however, were found to be the ones most likely to report a decline in workplace relationships due to anxiety, compared to Generation X and Millennials.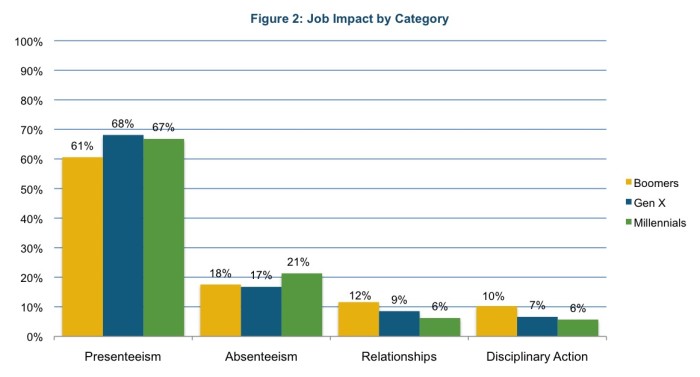 Image: Shutterstock