It's no surprise nearly half of Millennials are planning to change jobs next year.
Jobs, in fact, rank super low in terms of what makes young professionals happy, according to new research by Blackhawk Engagement Solutions.
Canvassing Millennial employees in the United States, the report found jobs ranked 10th in the list of 12 factors which contribute to making them happy – behind factors such as music, and even pets.
More than eight out of 10 (82%) of Millennials stated family makes them the most happy, followed by friends (51%), and hobbies (41%).
Only 13% ranked jobs as one of the top three factors contributing to putting a smile on their face.
Interestingly, this low percentage was despite 65% stating jobs are important to their overall happiness.
"This suggests an unmet need. Work is still instrumental in the overall happiness balance, and making Millennials happier at work requires thoughtful, effective rewards," said Rodney Mason, GVP, marketing, Blackhawk Engagement Solutions.
What kind of rewards would make them happy? These are 6 items identified in the report:
Prepaid card (30%)
Personal email from their coworker (27%)
Personal email from their manager (15%)
Gift card from a popular retailer (12%)
Announcement on company intranet or social media (10%)
Company branded item (6%)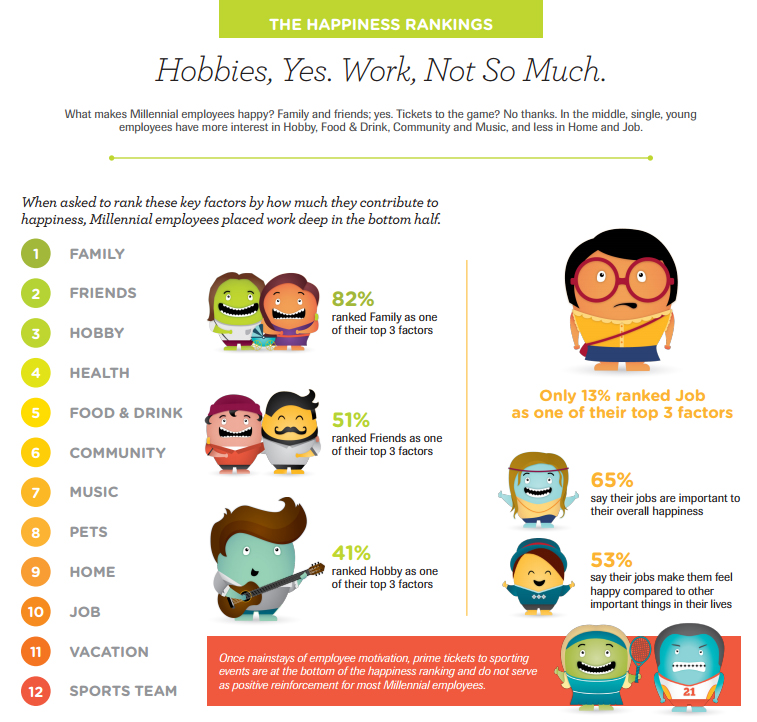 But rewards and recognition (R&R) was, precisely, the one factor which scored poorly in terms of what makes Millennials engaged at work – with only 40% saying they are happy with the R&R their company offers.
The report found several recognition gaps in terms of the rewards which Millennials want and those which are offered to them.
For instance, more than half (52%) of Millennials stated they would like a bonus programme at work, with only 36% stating their employers offer this to them currently.
Half also stated they would like recognition, but only 32% said their companies provide them this.
ALSO READ: 2015's top jobs for Millennials
"64% of Millennials would prefer to be recognised for a personal accomplishment, as opposed to a team accomplishment. They also prefer recognition directly from a manager or via a companywide announcement, versus peer-to-peer," the report stated.
When asked what they most wanted recognition for, 85% of Millennials want to be rewarded for exceeding personal performance levels,
Eight out of 10 (80%) stated they would like to be lauded for receiving a promotion, and 79% for exceeding team performance levels.
The report stressed that employers should focus more on providing the right types of rewards which Millennials actually want, especially because it found even little rewards "can deliver disproportionately large results".
For example, 83% of employees stated would be happy to participate in quarterly safety awareness training – with a mere $25 reward for completing each component.
In addition, 77% stated they would be happy to complete after-hours training – also for a $25 reward.
"When rewards are offered, the happiness quotient almost triples," the report concluded.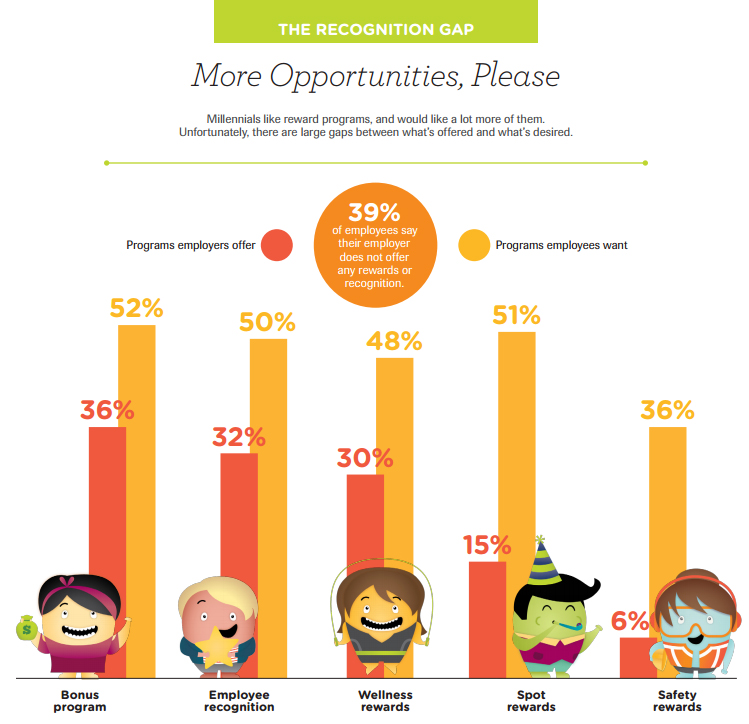 Image: Shutterstock