People are boycotting Mannings after the pharmaceutical chain took one of its cleaning staff to court on theft charges.
The defendant, a 77-year-old woman with poor eyesight and reportedly good work ethic, was accused by the brand of pocketing gift stamps on July 21 last year at the Tsuen Kam Centre branch, which Mannings claimed that each cost HK$50, meaning that the roll of about 600 gift stamps could cost up to HK$ 30,000.
As more details were unveiled, testimonies showed that the woman only discovered the roll of gift stamps later in the evening, and promptly placed the gift stamps back in the original place the next morning. Still, a security guard in Mannings stopped her after her return of the gift stamps, searched her bag, found other stamps scattered around, and insisted on calling the police, it was reported.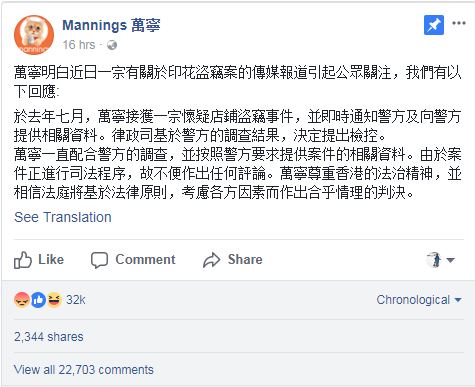 "As the case is undergoing judicial proceedings, it is inconvenient to make any comment. Mannings respected Hong Kong's spirit of the rule of law and believed that the court will make reasonable judgments based on the principle of law and various factors," it reads.
The statement has garnered 33k emotions so far, and "angry" emotion alone account for 32k of them. Some comments stated that the company is deleting or blocking their angry comments, and furiously ask Mannings to shut down so "you can peacefully hear nothing from the customers anymore".
The story was first reported by Marketing-Interactive.com.
ALSO READ: Mannings slammed for 'poor staff arrangements' during typhoon Hato