Human Resources Online is heading to Bangkok with the Accelerate HR conference on November 26-27.
HR leaders from Agoda, DKSH, Fonterra, FWD, Kasikornbank, Minor Food, Nissan Motor and more have already confirmed to speak.
Bring your team for additional group discounts.
Employees in Malaysia and the Asia Pacific region have indicated their bosses have a direct impact on whether they remain happy in their jobs.
According to the latest Kelly Global Workforce Index, 67% of respondents in Malaysia (and 68% in the region) said their manager has a direct influence on their job satisfaction and engagement. The study also showed 75% of Malaysians are not happy in their current jobs, and 40% frequently think about quitting.
"It is sometimes said that employees don't leave companies, they leave managers," said Melissa Norman, managing director of Kelly Services Malaysia.
She warned it is time for direct managers and supervisors to heed the warnings they may currently be overlooking from staff.
"What employees are saying is that they want their managers to open up with them and better explain responsibilities and expectations."
The survey canvassed responses from more than 28, 000 respondents in Asia Pacific, including 5147 Malaysian respondents.
Take a look at this infographic to get a better idea of what local employees say they need and want from their managers.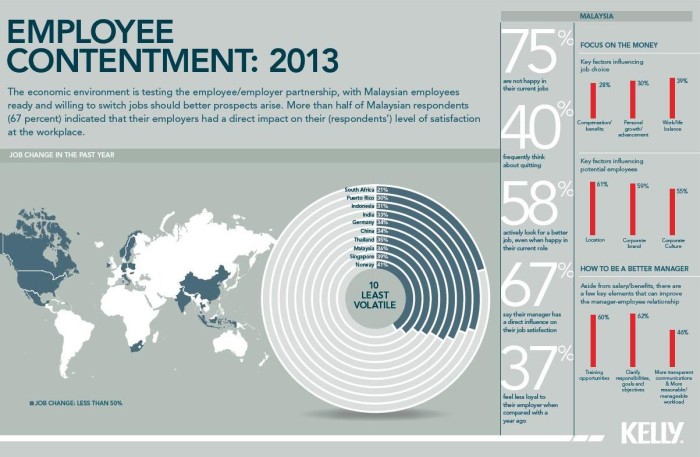 Uncover and learn about complex HR innovation tools and strategies at Accelerate HR from Thailand's largest employers including Agoda, DKSH, Fonterra, FWD, Kasikornbank, Minor Food, Nissan Motor and more.
Happening in Bangkok on 26-27 November, group discounts when you bring your team.