"The Asia Recruitment Award is the oscars of the recruitment industry. A display of the best of the best!"
Start your entries preparation early.
Open to both in-house recruitment & talent acquisition teams and recruitment solution providers.
Employers across the Asia Pacific region are expected to hand out pay rises of 7% in 2015.
While these are comparable to last year, they mean more in real terms, owing to lower inflation rates in the region's 19 countries in the past year.
Taking inflation into account, average salaries in real terms are set to rise 4.3% this year, compared to 3.3% last year, found Towers Watson's new regional report.
Within East Asia, mainland China will offer the highest raises in real terms (7.4%), while employees in Hong Kong will see the smallest in real terms (1.3%) – although the overall increase is pegged at 4.5%.
This play on inflation rates will mean that even though employers in Hong Kong and Singapore both are set to give overall increases of 4.5%, Singaporean employees will see far more of that increase.
In real terms, salaries will rise 1.3% and 4.4% respectively.
Sambhav Rakyan, data services practice leader, Asia Pacific at Towers Watson, explained, "The Singapore government has been sticking to a tight monetary policy to keep the lid on inflation.
"Its policy to stabilise property prices has also helped curb inflationary pressures."
He added, "In Hong Kong, at least employees will receive higher real increases than last year (0.1%) thanks to a modest fall in inflation."
ALSO READ: Hong Kongers received a 4.2% rise in average base pay this year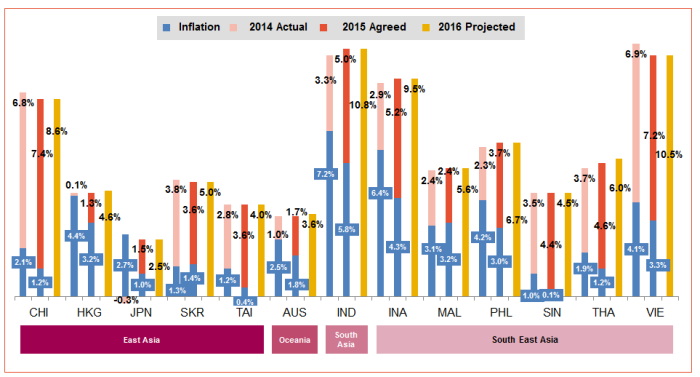 Accordingly, salary increase budgets for 2016 in Hong Kong and Singapore are forecast to rise 4.6% and 4.5% respectively.
Overall, in APAC, 2016 is likely to see nominal salary increases dipping slightly to 6.7%.
Across all industries, close to 80% of respondents said they plan to allocate a larger portion of their salary budget to high performers – especially in the three core industries of financial services, technology and healthcare/pharmaceutical.
Rakyan said, "Our survey showed that 80% of respondents will hire new employees in the next 12 months, suggesting a sunny outlook for employees in the region."
However, he pointed out the greatest rewards will go to the top performers, who are seeing salary increases of approximately 1.5 times that of average performers.
Good performance is rewarded even more strongly in markets where overall salary increases tend to be higher. In India, increases for the highest-performing employees average 12%, nearly twice the regional average.
"The aggressive pay increases for high performers shows how urgently companies, especially in emerging markets, are focused on recruiting and retaining top talent."
Lead image: Shutterstock