If you ever wondered what Virgin Airlines boss Sir Richard Branson would look like as a woman, now you know.
The extroverted billionaire was a good sport on Saturday night as he made good on a bet placed with AirAsia chief Tony Fernandes two years ago.
The pair, who are good friends and both own Formula 1 racing teams, had wagered over whose team would finish ahead at the Abu Dhabi Grand Prix – and the loser would be forced to dress as a stewardess on the other's airline.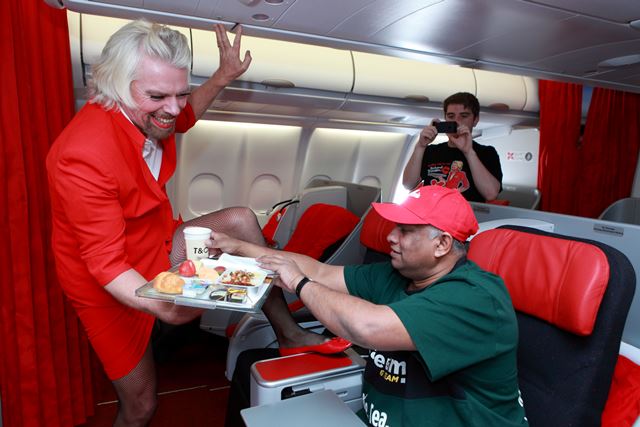 So, Branson finally swapped his suits for stockings and even shaved his legs for the flight to Malaysia, in which he served drinks and cleaned toilets.
He completed his look by pinning his blonde hair back with clips and putting on red lipstick and false eyelashes.
"I've done some outrageous things in my time but this will be up there with the best of them," Branson said.
Fernandes, who used to work for Branson before setting up his own budget airline, said there's was no getting out of the bet.
"As an AirAsia X's flight attendant, he has to comply with our grooming standards and that includes shaving his legs, donning high heels, putting on some makeup and slipping into the AirAsia's famous red uniform."