Wah! The Oxford English Dictionary (OED) has recognised 19 words from Singapore English (Singlish, to us) in its latest quarterly update – including blur, ang moh, hawker centre, shiok, and even the less-than-encouraging adjective, Chinese helicopter.
A total of 13 terms have also been added from Hong Kong English, including those widely-used in Singapore as well, such as char siu and wet market.
Clearly inspired by the range of new words introduced, Jonathan Dent, senior assistant editor of the OED, wrote: "Looking beyond the UK and US, there's also an (almost complete) alphabet of newly added terms from World English to explore, from ang moh (a Singapore English term for a light-skinned person, especially one of European origin—literally in Hokkien Chinese '(a person with) red hair') to yum cha (a Chinese meal, usually of dim sum and tea, eaten in the morning or early afternoon)."
So to celebrate the occasion, Randstad Singapore set out to envision a world where Singlish is the norm rather than the exception – and crafted out a cover letter of the future using the 19 newly-added words: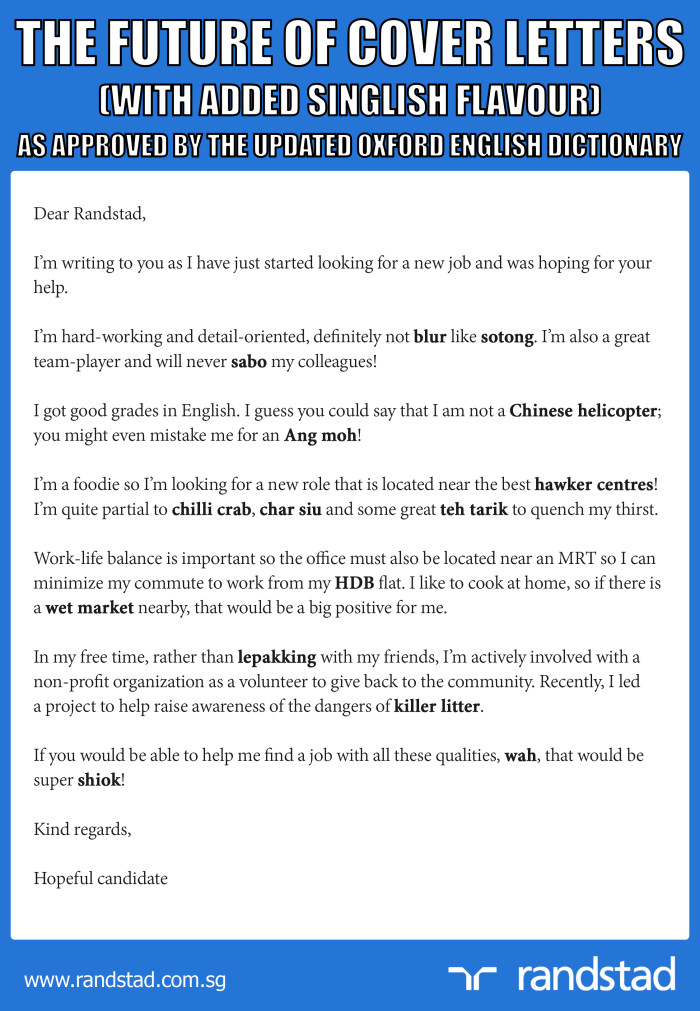 If this cover letter leaves you scratching your head, here's OED's full translation to the Singlish as well as Hong Kong words.
Lead image: Shutterstock