In the US, one in 10 employees have admitted to having sex with a colleague, but more than half said those relationships have ended up badly.
This week, a company in the US is facing a lawsuit after a supervisor allegedly sent a married co-worker a poem he wrote, which included the following line: "I enjoy you so. Your thick legs and all of the voluptuous plumpness that accents your womanhood."
New York Post reported he left his job at law firm Cadwalader, Wickersham & Taft voluntarily in 2011, but the woman is suing the outsourcing company that placed her at the firm for failing to investigate her initial complaints against the man.
Here are three other incidents to remind you why sex-related activities don't always bode well for either party.
Sex email gone viral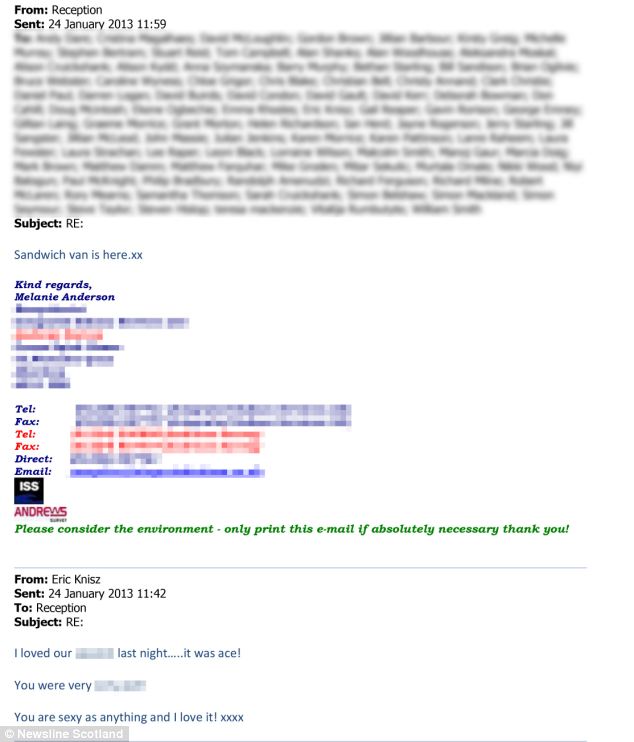 Image: Newsline
A couple quit their job in embarrassment when an email conversation between them discussing their sex life accidentally got sent out to the entire office.
Eric Knisz and Melanie Anderson resigned from Integrated Subsea Services after Anderson forwarded the email thread by mistake when she wanted to inform the office of the arrival of a sandwich van. Oops.
The overly nosy employer
About ten council workers in the Swedish city of Umeå asked to be reassigned after being made to answer questions about their sex lives when returning from sick leave.
Anders Lilliesköld, the council's personnel officer, said the 70-question test was to assess if the employees were fit to return to work, although we doubt many of the staff agreed with the line of questioning.
Woman compensated for sex injury
A woman in Australia was compensated for a sex injury sustained on a work trip in 2011. The government worker hurt her nose and mouth after a lighting fixture fell on her while having sex with a male colleague. She was earlier denied compensation, but her case got overturned in 2012. It was not revealed how much she was compensated for.
However, despite the possibilities of a sour outcome, some have decided passion trumps professionalism.
A survey by Business Insider found 90% of its readers have been sexually attracted to a colleague, with 55% having had sex with a co-worker. Additionally, 84% of those who have done the deed said it did not impact their career, and 90% went so far to admit they were glad they had done it.