Stay tuned for all the updates from HR Tech Interactive 2014 , the second annual conference covering all aspects of HR technology and innovation in Asia. Produced by Human Resources magazine, this event is focused on helping HR professionals work better with their IT functions, understand workforce analytics and cut through the hype to discover what systems and ideas work best to help them boost their workforce.
Please SMS your questions for our speakers and the panel discussions to 73333  in the format HRT <space> your question and tag your tweets with the hashtag #HRTech2014:
To read more about this event, please go to: http://www.hrtech2014.com/
Our final panel of the day! Jayesh Menon, regional HR leader APAC at Itron, Michelle Murphy, HR business partner APAC at OpenLink and Bala Subramaniam, regional HR business partner at Twitter, analyse social, video and innovative HR technology of the future.
The final interactive session for today is now underway, with just over 20 minutes on the clock! Delegates are catching up with their table hosts and everyone's sharing their views: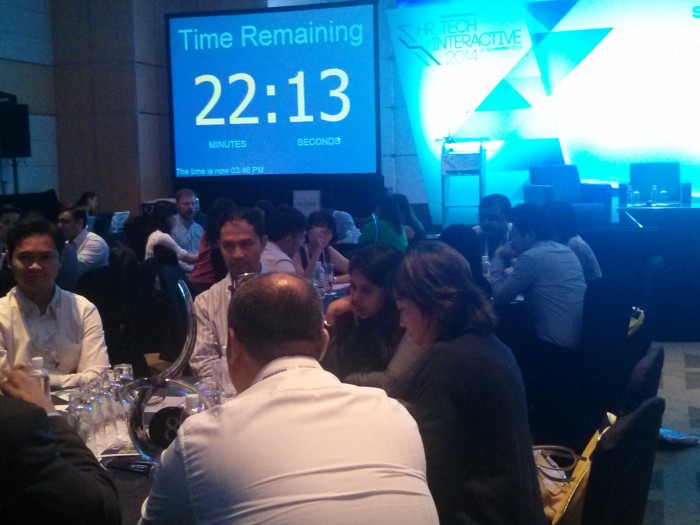 The day's 4th interactive session kicks off with dynamic discussions from delegates at HR Tech Interactive 2014 – big data, mobile HR, and HR cloud are some of the topics being debated at each table.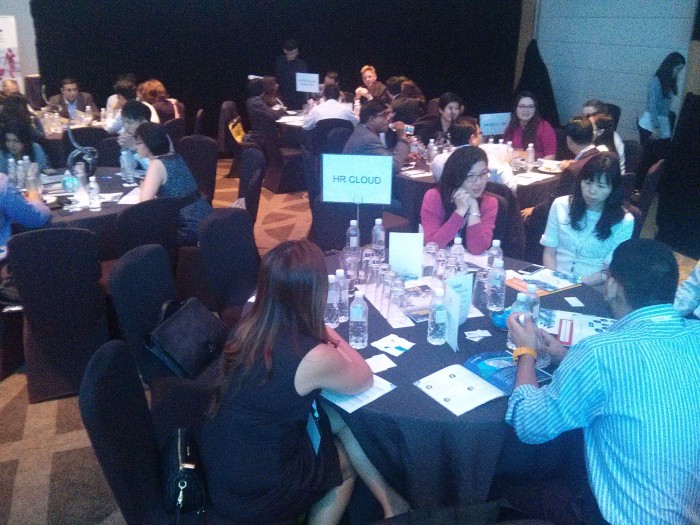 HR leaders from Autodesk, MasterCard and Pitney Bowes debate the best ways of adapting to new technologies in organisations.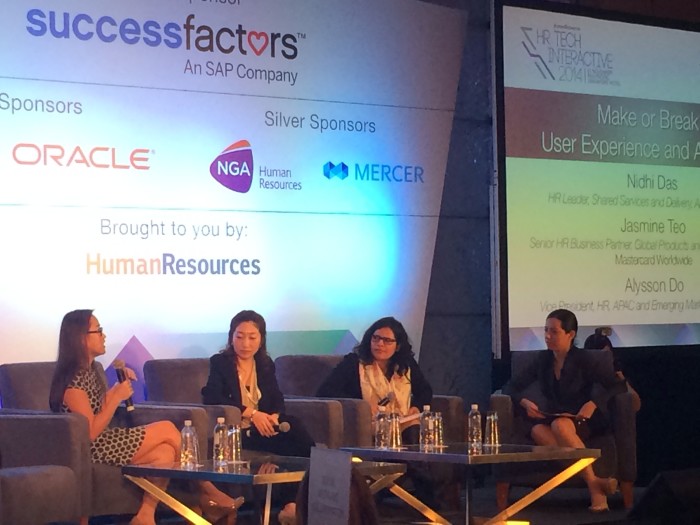 Our third interactive session kicks off with vibrant discussions on issues such as mobile HR, HR cloud, social media and collaboration, next generation recruitment tools and big data and analytics.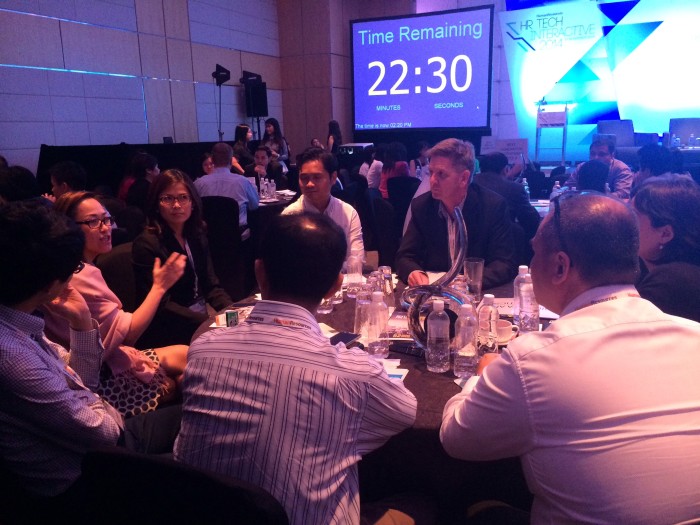 It's after lunch, and we've got our delegates back in their roundtables, talking about the latest HR tech trends at today's second interactive session!
K. Shyaam Sunder, vice president, human capital management at Ramco, on stage now to talk about leveraging HR technology to drive a high performance culture.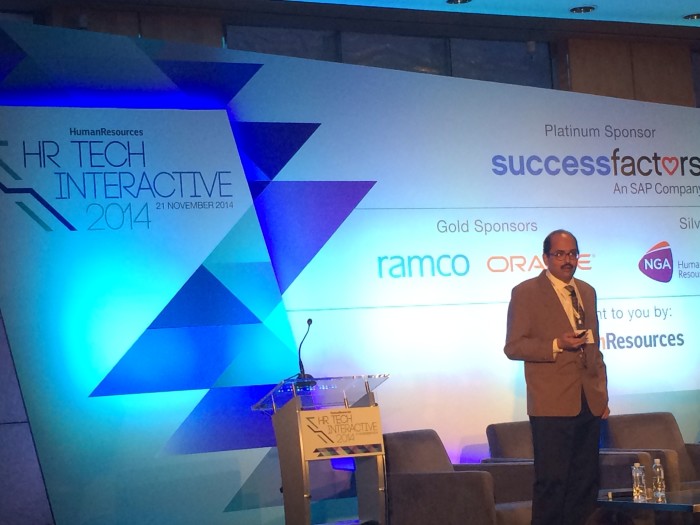 A good time to decode workforce analytics, in this panel featuring Dion Groeneweg, growth markets lead workforce planning & analytics and HR transformation, Mercer talent, Mercer; Harpreet Singh Kaintel, CIO, APAC, ZenithOptimedia; and, Martin Prinz, executive director, HR transformation and strategic projects, APAC, UBS.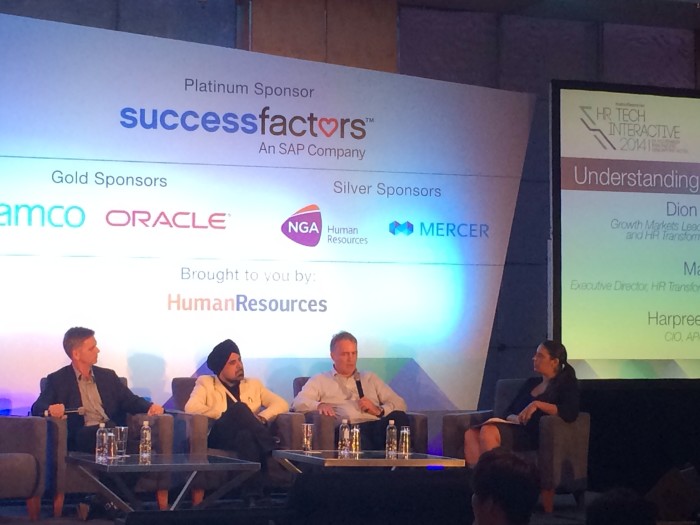 How can HR partner with CIOs? We hear views from both sides, with our panelists Ken Soh, CIO and director, e-Strategies, BH Global; Inna Wahlberg, pre sales director, APJ, NGA Human Resources; and Syed Ali Abbas, CHRO, Pacnet. This discussion is being moderated by Rebecca Lewis.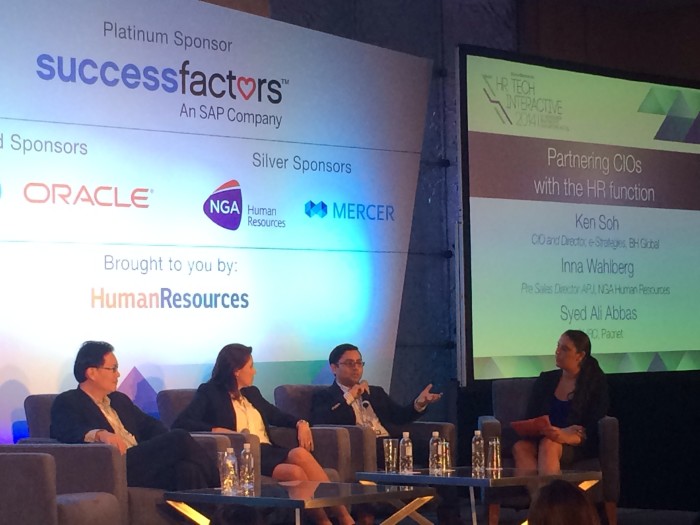 The first interactive roundtable sessions have gotten started. There's already a lot of buzz and chatter thanks to our first two speakers. The roundtable topics today are on: Big data and analytics, mobile HR, HR cloud, social media and collaboration and next generation recruitment tool.
For HR, the future is in the clouds. We now hear from Gordon Zeilstra of Successfactors on how businesses can keep pace:
Alysson Do, vice president of HR, APAC and emerging markets at Pitney Bowes kicks off the conference with a keynote presentation about how technology is dramatically changing HR.
Editor of Human Resources, Rebecca Lewis, takes the stage to kick off HR Tech Interactive 2014, the region's leading HR technology conference – welcome, everybody!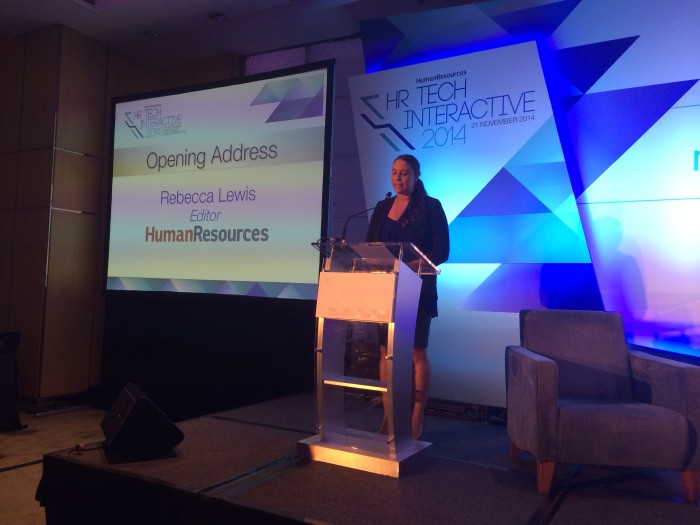 Our sponsors – Successfactors, an SAP Company; Ramco; Oracle; NGA Human Resources; Mercer – are getting their exhibition booths ready for the delegates' arrival. They'll be available all day to meet with and talk to all delegates.
We're getting set up here at Pan Pacific Singapore, ready to greet our delegates nice and early. We're excited to get things started!