Almost nine in 10 hiring managers in Southeast Asia revealed that they are facing challenges in attracting and recruiting talent. But, according to the latest whitepaper titled Understanding Employers' Attitudes Towards Women Returning To Work by Robert Walters, that might be because they aren't fully tapping on the pool of talent which is returning women.
Despite the benefits returning women bring to the workplace, almost half of hiring managers in Asia (46%) have not employed any returning women in the past year. That figure rose to 49% in Singapore, 48% in Hong Kong, and 52% in Malaysia.
Polling over 2,200 hiring managers and female professionals across Asia (including Hong Kong, Malaysia, Singapore), the survey found that while women often step off the career ladder for various reasons, monetary concerns, often compel such women to return to work.
More than a third (35%) of all women professionals polled stated financial reasons were the top reason in deciding to re-join the workforce. This was followed by a desire to learn new skills (28%) and lack of fulfilment in staying at home (18%).
Robert Walters' survey pointed out that across Asia, 65% of women have taken a break at some point in their lives. In Singapore, that figure rose to 72%. While 67% of women in Hong Kong, and 56% of women in Malaysia have also taken career breaks at some point.
With such a large pool of talent available, interestingly, when asked whether employers had a specific recruitment policy that targeted returning women, an overwhelming 92% said no.
ALSO READ: How Facebook, Singtel, and more are enabling women in the workplace
Benefits returning women bring 
According to 55% of hiring managers, specific job experience or skills are the biggest benefits returning women bring to the workplace. This was specifically highlighted by those in the human resources (56%), information technology (53%) and finance sectors (40%).
Besides being able to provide unique yet relevant perspectives, women returning back to the workforce also have a renewed energy and a commitment to succeed.
More than half (51%) of employers stated such women demonstrated an eagerness to take on challenges, while 46% said they were able to multi-task well. More than two out of five (42%) of employers stated such women were highly engaged in their jobs.
Yet, a fifth of employers in Asia still had doubts about whether hiring returning women will benefit the workplace, while 24% stated the workforce will benefit 'maybe a little' from such professionals.
As a result, even after being re-employed, returning women in Asia continue to face barriers to professional success.
Unequal salaries were identified as the most common type of discrimination facing 48% returning women in the region, followed by lack of career advancement opportunities (38%).
READ MORE: 40% of firms in Singapore set to hire more returning mothers
Leveraging on the benefits returning women bring
In order to fully leverage on the benefits that returning women bring to the workplace, employers have to be able to keep these women engaged. A good way to do so is to give them the freedom to manage their working schedule.
Robert Walters' survey found that 51% of women returning to the workforce regarded the freedom to manage their own working schedule as very important in keeping them engaged at work. This was followed by a clear career progression path (50%), and a role with high salary/benefits (44%).
Joanne Chua, account director, Southeast Asia & Greater China of Robert Walters Singapore, commented: "The capability of women professionals is often questioned once they take maternity leave, or have significant lapses in their career trajectories.
"When recruiting this group of talent, we would strongly encourage HR and hiring managers to remain objective and provide them with a level-playing field in order to unlock their full potential."
ALSO READ: 83% say flexitime is key to getting mothers back into the workforce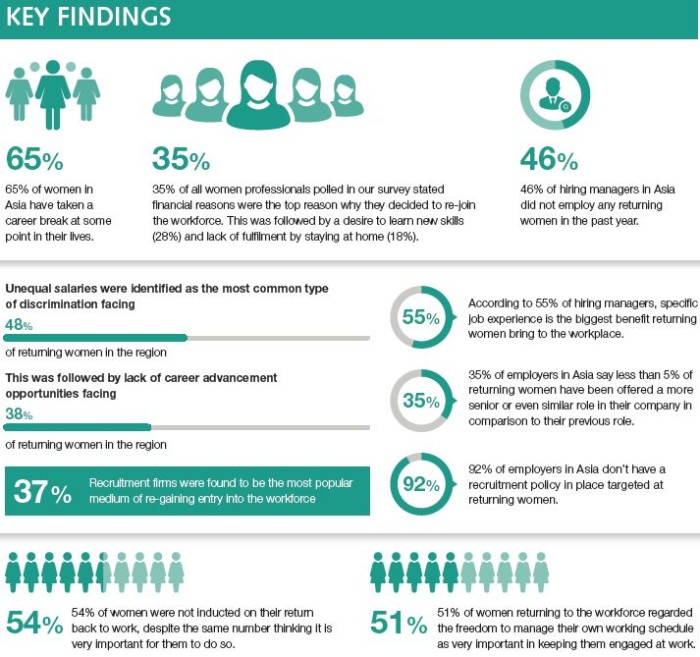 Photo / 123RF