Human Resources Online is heading to Bangkok with the Accelerate HR conference on November 26-27.
HR leaders from Agoda, DKSH, Fonterra, FWD, Kasikornbank, Minor Food, Nissan Motor and more have already confirmed to speak.
Bring your team for additional group discounts.
With the today's employees placing an increasing focus on flexible work and rise of the gig economy, the traditional '9-5 job for life' definitely seems to be on its way out the door.
According to new research by ManpowerGroup titled "#GigResponsibly: The Rise of NextGen Work", 81% of workers said  NextGen Work – part-time, freelance, contract, temporary or independent contract work – is a choice, not a last resort (19%), and believes it helps build resilience for less predictable futures.
Digging deeper, the global survey of 9,500 people revealed the contributing reasons as to why NextGen Work is on the rise, including earning extra money (38%), developing new skills (33%) and having more control over their schedule (32%).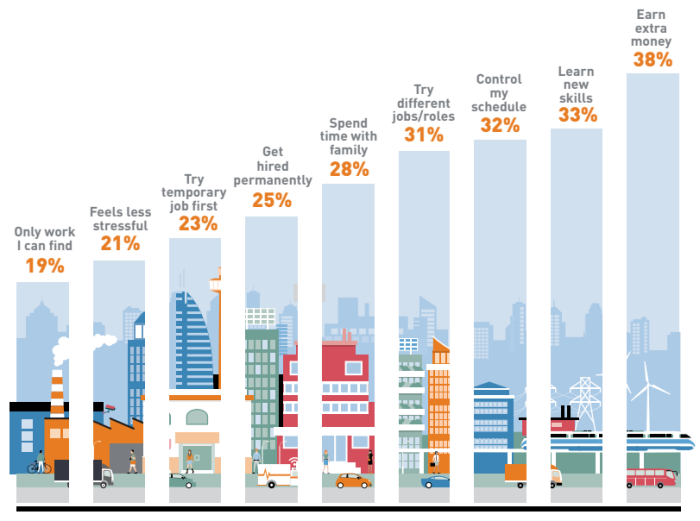 The survey also found that while the vast majority of workers (87%), spanning five generations and both genders, are open to NextGen Work for their next or future position, their motives vary.
The younger Millennials (age 18-24) were found to prioritise pay, learning and career advancement. By their late 20s, over 60% of Millennials have had the same number of jobs as the majority of their parents.
On the other hand, pay is a lower priority for Boomers (age 50-65), with most choosing encore careers that provide meaningful work and balance. The survey also found that the desire for employer appreciation increases with age.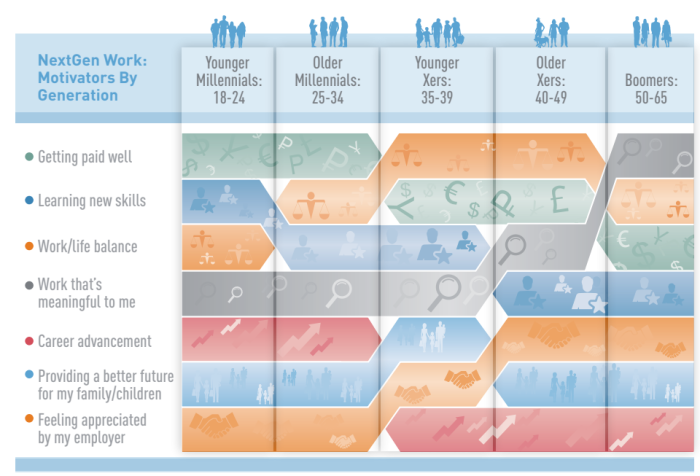 Interestingly, men are just as likely as women to look for flexibility to spend time with family (both 29%) and to seek a less stressful environment (21% vs 22%).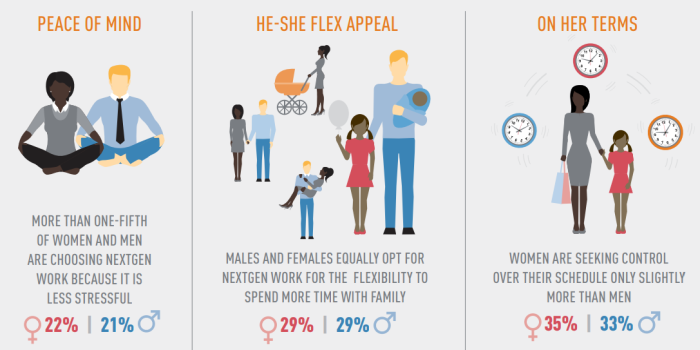 "Much of the jobs growth in the last 10-15 years has occurred in non-traditional, alternative ways of working," said Linda Teo, country manager, ManpowerGroup Singapore.
"What people want is changing. They are working longer, learning more and seeking a better balance between work and home. Not everyone wants to engage as a full-time employee and organisations don't always want that either. We need to enable NextGen Work. In a world of accelerating change, it will be skills and new ways of working that will provide career security, opportunity for growth and prosperity for individuals and nations alike."
ALSO READ: 10 things to know about the future of work
Infographics / ManpowerGroup
Lead photo / 123RF
For the 5th consecutive year, HR Distinction awards will again honour the very best in the HR industry. Winning is both an affirmation of the exceptional quality of your work in the industry and among peers. Book your gala dinner table now
Contact us now for more details.