In today's business landscape where change is the only constant, organisations have to keep innovating in order to succeed in the long run.
According to PageUp's inaugural Global HR Innovation Study, driving innovation in the next year is an organisational priority for 64% of companies.
But does HR have a part to play in this?
The PageUp study, conducted in association with Alexander Mann Solutions, found that among the 322 business and HR professionals surveyed (including 99 across Asia), found that HR is more confident (80%) than its non-HR peers (67%) that it has a role to play in driving organisation-wide innovation.
The study pointed out that while HR and talent management practices are critical in supporting sustained innovation, HR is yet to deliver on this promise.
HR professionals were nearly twice as likely (43% vs 24%) to believe they are currently driving innovation in their organisation.
However, the study noted that when innovation was perceived as an organisational priority there was a stronger link to the positive role HR plays. In fact, where innovation is a top priority, 85% of all respondents believed HR has a key role to play in supporting innovation, and half say HR is currently delivering.
ALSO READ: Case Study: How DBS trained more than 2,000 employees on innovation
"Without HR processes that recruit, develop and nurture innovative talent or frameworks for developing and prioritising new ideas, innovation can easily become a flash-in-the-pan moment rather than a long-term strategy to safeguard the organisation into the future," Rebecca Skilbeck, global market researcher at PageUp said in a press release.
"A sustainable culture of innovation requires a commitment to creating company-wide capability, and HR is well-placed to have a significant and strategic influence here," Skilbeck added. "The HR industry has a very ripe opportunity to shift internal perceptions, increase its value proposition and start delivering on the promise of sustainable innovation that contributes to the organisation's bottom line."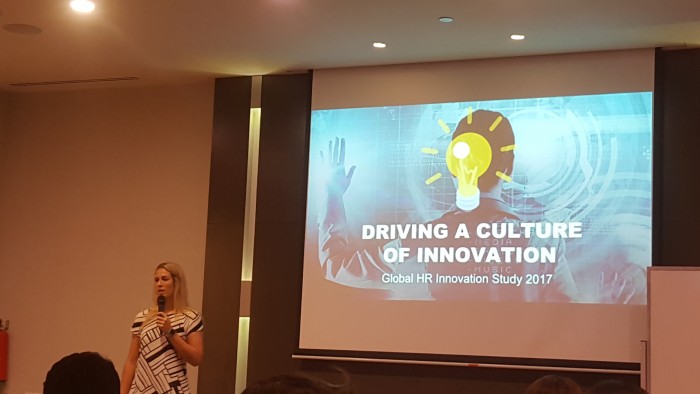 During the HR Industry Breakfast which explored the findings of the study, Sarah Forbes, vice president – Asia, PageUp shared two tips for companies who are starting to foster the culture of innovation:
1. It needs to start from the top down
You have the leaders driving it, embedding the culture of innovation into the values of the organisation. You've got your leaders then pushing it down through the organisation.
2. It starts from HR
Before HR starts to look at how to promote innovation within the company, it's about making sure that HR has got the ability within the function to assist in driving innovation in the function as well.
At the event, Syed Ali Abbas, group HR director at Global Fashion Group said: "My favourite takeaway from the survey is that we can do more as HR."
"We in HR are a very big barrier to innovation.  Because right now, we push back on a lot of sources of innovation in the company, just because we are not comfortable having our competency models, our compensation policies, our global mobility programmes, etc. questioned by people," he explained.
The conversation comes at an apt time, as Singapore Budget 2017 has extensive focus and investment for innovation. A*STAR currently works with firms to conduct operation and technology road-mapping, to identify how technology can help them innovate and compete. A*STAR will expand its efforts to support 400 companies over the next four years, announced by the Minister of Finance.
Photo / 123RF