Making use of figures collected in 2011, the Census and Statistics Department has listed the percentage of residents living in over 400 major housing estates in Hong Kong that have received tertiary education.
The department defines major housing estates as premises with no less than 3000 residents or no fewer than 1000 units.
Commentator Leung Kai Chi has ranked the top 75 housing estates with the highest percentage of people with tertiary education below; and here are four observations which can help HR with talent acquisition.
1. Residents of private housing estates are better educated
All the housing estates in the top 75 are private, in fact, the first non-private housing estate does not show in the rankings until it reaches 215 – Ka Wai Chuen located in Hung Hom. This implies there is a significant gap in the education level between residents living in private and public housing.
2. Where do the most educated people live?
The educated guess is Hong Kong Island, but not many estates on Hong Kong Island made the list. Leung explained this may be due to fact that many highly educated individuals, living in the Mid-levels or other traditional luxurious housing areas are not in the rankings, because the scale of the housing estate they stay in is too small to quality for the list.
Looking into the numbers. Residents of Harbour Green at Tai Kok Tsui are the most educated, with over 60% having received a tertiary education. According to the department, 21% of the population in Hong Kong has received a tertiary education.
3. Those living in new housing estates are the most educated
Many traditional housing estates such as Taikoo Shing (35), City One Shatin (75) and Mei Foo Sun Chuen (96) do not occupy high spots in the rankings. Leung said many of these premises were purchased years ago in an era when people with less education could still afford private housing.
On the other hand, housing estates that were built in the past two decades have a very high percentage of well-educated residents. Relatively new housing projects in Tung Chung such as Seaview Crescent (12), Coastal Skyline (14) and Tung Chung Crescent (19) are all high in the rankings, with more than 45% of the residents having received a tertiary education.
The implication: In this raging housing market, only the well-educated have a shot at the private housing market.
4. Locations with the least number of graduates with a tertiary education
At the bottom of the rankings are all public housing estates. At Sau Mau Ping South Estate, Ching Ho Estate in Fanling, Choi Fook Estate and Choi Tak Estate at Kwun Tong, Mei Tung Estate at Wong Tai Sin and Tin Shui Wai's Tin Ching Estate, less than 5% of residents have received a tertiary education.
The diagram below lists the top 75 "most educated" housing estates. Estates marked in blue are located on Hong Kong Island, those in red are on Kowloon and green are in the New Territories.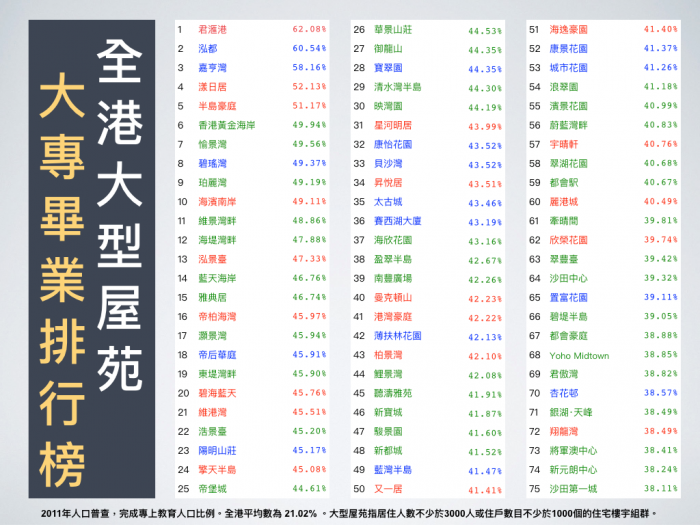 Sources: Facebook of Leung Kai Chi 
ALSO READ: Would you reject candidates for these reasons?
Photo/ 123RF