Aspiring to be the next CHRO? Well, it's probably time to brush up on your business skills.
According to the 'Developing the Next Generation of CHROs in Southeast Asia' report from Aon, 88% of CHROs identified 'thinking strategically' as the most important behavioural competency. Yet they only rated themselves 3.1 out of 5 on their own capability levels.
Other behavioural competencies identified included 'driving change' (64%) and 'business knowledge' (57%) which the CHROs only rated themselves 3.3 out of 5 and 3.2 out of 5 respectively.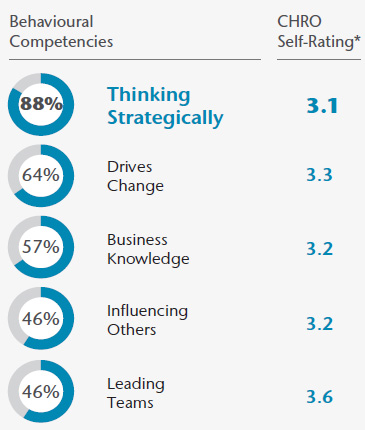 Interestingly, the report also found that more than half of CHROs in Southeast Asia don't come from an HR background.
Over 50% of CHROs in Southeast Asia do not have an HR background, with almost 40% within this group having a 'mixed' background, gaining a majority of their experience in a variety of roles such as line HR, business, or consultant.
On the other hand, global CHROs lack variety in their career experience prior to leading HR, with only 24% having 'mixed' experience.
Jeremy Andrulis, CEO of Aon Hewitt in Southeast Asia, said: "CHROs are now expected to be business-drivers, not just business advisers. With more non-internal HR professionals assuming CHRO roles, it's critical that in-house HR professionals aspiring to be CHROs broaden their exposure and skills beyond the HR realm.
"This enables them to think from an outside-in perspective and speak in the language of business leaders. What's essential is for CHROs to be critical stakeholders in defining the firm's strategy, and apply critical thinking to drive the business strategy through people programmes within the organisation."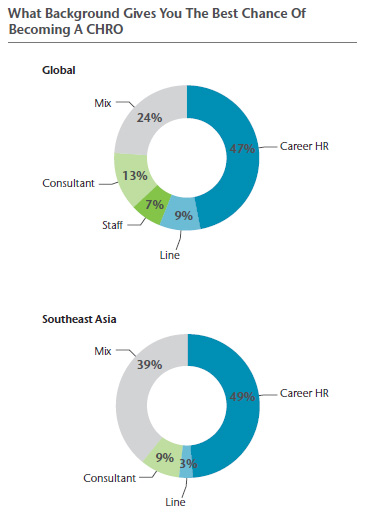 Lead photo / 123RF
Infographic / Aon