Asia's world city has just gotten some good news from the IMD World Competitiveness Centre.
The city was crowned the world's most competitive economy at the latest IMD World Competitiveness Ranking.
According to the ranking, Hong Kong is not only top in the world for government and business efficiency, but also fifth for economic performance and 21st in infrastructure.
IMD director Professor Arturo Bris said the city's efforts to create a business-friendly environment had been central to its ability to defy regional challenges.
A leading banking and financial center, Hong Kong encourages innovation through low and simple taxation and imposes no restrictions on capital flows into or out of the territory.
"It offers a gateway for foreign direct investment in China Mainland, the world's newest economic superpower, and enables businesses there to access global capital markets. It is also valued as a gateway for foreign direct investment in the mainland, "the world's newest economic superpower", enabling businesses there to access global capital markets," he said in a press release.
In contrast, the US "was no longer able to maintain its dominance", falling to third in this year's survey, behind Switzerland.
The annual survey of 61 jurisdictions around the world collected opinions from more than 5,400 business executives.
Hong Kong claimed the top spot in the 2012 IMD rankings, but lost it to the United States for the next three years. Singapore, dropped from number three in last year's survey to fourth this year was the only other Asian entrant in the top 10.
Many major Asian jurisdictions and countries, including Taiwan, Malaysia and Indonesia, have all suffered significant falls from their 2015 positions, while China declined only narrowly retaining its place in the top 25.
The countries were dragged down by lower commodity prices, a strong US dollar and deterioration of balance sheets in both the private and public sectors, IMD said.
In an interview with the South China Morning Post  Chinese University of Hong Kong lecturer Stephen Wong Yuen Shan said the city managed to climb to the top despite a government that had not done enough to nurture the technology industry and protect labour rights. "It proves that Hong Kong is a much blessed city," he said.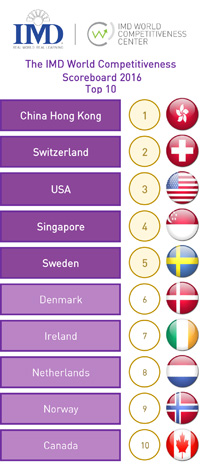 ALSO READ: Hong Kong overtakes Paris to emerge as the world's 2nd most expensive city
Image: Shutterstock