HR Vendors of the Year Awards is back again for its 5th year with a fascinating gala night to celebrate the best HR vendors in Hong Kong. Winning is both an affirmation of the exceptional quality of your work in the industry and among peers. Enter Awards now
Contact us now for more details.
It's all about the money for the newest generation of potential employees in Hong Kong. When choosing jobs, undergraduates value salary and benefits the most, with 27% listing it as their top priority. Asked to put a number on it, 56% of them expect their first job to offer a monthly salary of HK$14,000 or more.
While slightly higher than the average graduate salary in 2015 (HK$13,413), the number matches last year's actual average graduate salary of HK$14,685. The focus on money is in line with their targets for the first five years after graduation: The number one goal is to buy property.

Popular goals aside from buying property are reaching management level, living independently, and building a family.
The findings are the result of the annual student survey conducted by jobsDB. The survey questioned 757 local graduates and undergraduates from various disciplines.
According to the survey, other priorities for fresh graduates when choosing their first job are room to develop interests (15%), company environment, culture, and reputation (11%), job security and stability (11%), and career development and training (10%).
The top three job industries where undergratuates are hoping to find all this are acounting (20%), advertising/PR/marketing (11%), and the civil service (10%).
ALSO READ: Why Millennials can't be job-hoppers
While younger generations have acquired a reputation of being job-hoppers, not all of them are constantly searching for the greener grass, with 41% of survey respondents looking to stay in their first job for more than three years. Over a quarter of them would like to stay for three to five years.
The results are in stark contrast with last year, when only 20% of graduates indicated they wanted to stay in their first job for more than three years. According to jobsDB, the rise in those looking for a longer commitment could stem from a preference for stability amid economic uncertainty.
Despite this uncertainty, 71% of undergraduate students feel optimistic about their careers. Those who feel pessimistic are mostly worried about the amount of competition within their industry and the market demand for their skills.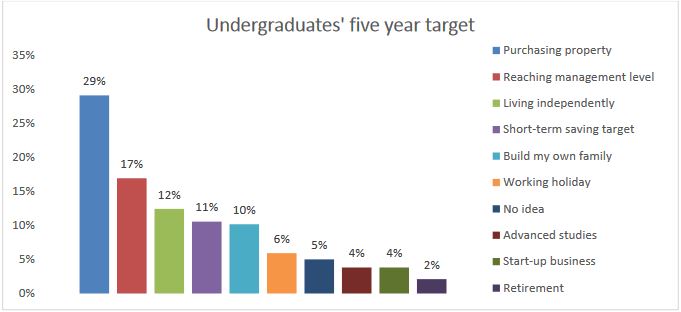 Commenting on the results, Justin Yiu, general manager of Jobs DB Hong Kong, said: "With the right conditions, employers can expect to retain many of their fresh graduates for three years or more. However, they can do even better if they take steps to reduce work-related stress and career worries, for example by focusing on career development and training."
He advised HR managers to look at what graduates value most. "Apart from boosting starting salaries, they may consider developing better employer branding, and fostering a work culture and environment that appeals to young people, so as to capture and keep top quality talent in the long term."
ALSO READ: Graduate salary expectations across APAC
Photo / 123RF | Graphs / jobsDB

Uncover and learn about complex HR innovation tools and strategies at Accelerate HR from Thailand's largest employers including Agoda, DKSH, Fonterra, FWD, Kasikornbank, Minor Food, Nissan Motor and more.
Happening in Bangkok on 26-27 November, group discounts when you bring your team.