Reflecting global economic uncertainty, employers across Asia were slightly cautious about hiring in the last quarter of 2016, according to Robert Walters' Asia Job Index
Despite that, the report found that HR professionals in Asia remained high in demand – hiring for HR roles increased by 5% in Q4 2016.
Other professions that were in demand include technology professionals, legal and compliance professionals, with hiring for those roles having increased by 10% and 9% respectively.
Job advertisements for IT grew by 35% in Singapore
In Singapore, there was a 1% overall dip in job advertisements in Q4 2016, compared to Q4 2015.
With more firms investing in technologies that boost consumer engagement, IT job advertisements grew by 35%. In the IT sector, professionals proficient in handling digital platforms, cyber security, and project management were specifically in demand last quarter.
Another profession in high demand was contract logistics professionals, especially at the junior to mid-level in the healthcare industry, as firms looked to outsource warehousing and distribution functions to leading organisations.
On the other hand, with more companies focused on restructuring, streamlining and outsourcing their accounting functions, job advertisements within the accounting and finance sector decreased slightly. This was especially seen within the oil and gas industry.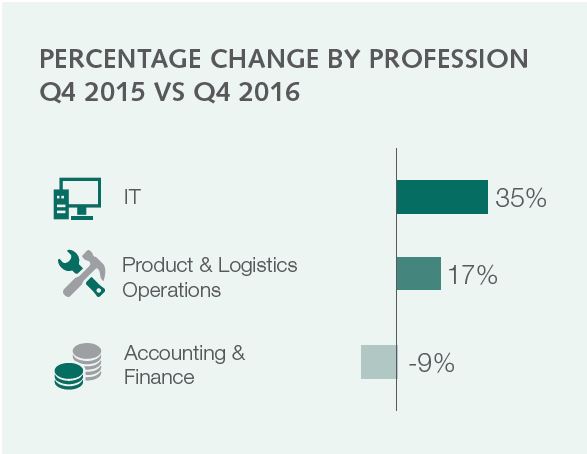 Toby Fowlston, managing director, Robert Walters Southeast Asia, commented: "Firms, especially within the investment banking sector, decreased hiring budgets in a bid to save costs and/or continued offshoring to cheaper cost locations. Sectors such as oil and gas and manufacturing also remained under duress due to ongoing economic uncertainty."
Fowlston also noted that with support by rising government investment in the local tech start-up ecosystem, more firms have shifted from traditional retail to e-commerce. This drove vacancies for IT experts proficient in developing latest technologies and platforms.
"User experience and user interface were particularly sought after by companies. Demand for local talent also remained high, and employers invested more in attracting, hiring and retaining both locals and Singaporeans based overseas to solve the talent crunch," he added.
"In line with this, our Balik Kampung initiative remains more relevant than ever in connecting overseas Singaporeans with jobs back home," Fowlston said.
HR vacancies dipped by 34% in Malaysia
Across the straits, Malaysia saw a slight rise in annual job advertisements by 1%.
While the number of jobs in the merchandising and purchasing sector was boosted by 35%, vacancies for human resources professionals dipped by 34% in the fourth quarter of 2016.
According to the report, the dip in vacancies can be attributed to more companies employing direct approaches (headhunting, networking and talent referrals) rather than job advertisements to find niche talent for their in-house human resources teams.
At the same time, the report noted that many organisations also focused on building in-house talent acquisition teams instead of hiring externally.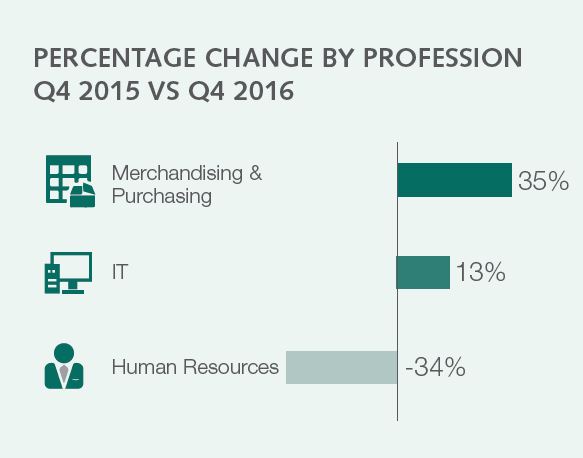 Sally Raj, managing director, Robert Walters Malaysia, said: "The slight rise in annual job advertisements was not surprising as professionals remained cautious about changing jobs due to challenging market conditions."
Raj noted that while hiring slowed at the end of the year as budgets were reviewed, the country's low operating costs helped generate new jobs as new market entrants continued to expand their operations in Malaysia.
"A number of e-commerce startups, for example, created more job opportunities for IT experts such as software developers and those proficient in cyber-security. To overcome talent shortages in these areas, many employers focused on attracting Malaysians based overseas and we expect this demand for returning Malaysians to remain healthy through 2017," Raj said.
12% dip in HR vacancies in Hong Kong
Over in Hong Kong, there was a 12% increase in job advertisements in Q4 2016, compared to the year before.
While there was a 27% rise in demand for legal and compliance professionals mainly due to stricter regulatory and compliance laws, similar to Malaysia, the HR profession saw a dip in vacancies by 19%.
The report noted that in general, firms adopted a 'wait and see' approach when it came to hiring for HR roles. Instead of hiring for specialised roles across a range of positions, employers focused on hiring generalist HR experts with the flexibility to carry out multiple responsibilities.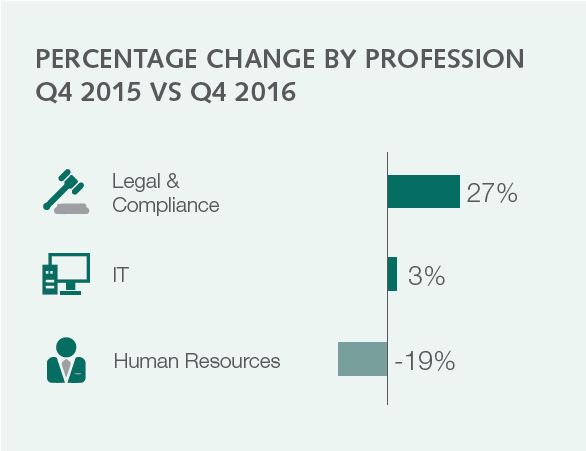 Matthew Bennett, managing director, Robert Walters Greater China, said: "Early signs of returning market optimism drove the rise in annual job advertisements last quarter. There was a slight upturn in activity in Q3, which encouraged businesses to be a little more confident about expanding hiring budgets.
Bennett further noted that to stay competitive and cost-efficient, banking and financial services firms invested more in tech-savvy professionals with a strong understanding of financial products.
"Those with specialist IT skill sets across mobile development, e-commerce and cloud technology were specifically in demand. Hiring levels dropped, however, for secretarial and admin roles, as firms remained cost-conscious and tightened recruitment budgets for support functions," Bennett added.