You might be relying on the stereotypes of the Millennial generation to enhance creativity and productivity levels, but how much do you really know about the youngest members of your workforce?
Apparently, not much.
Debunking several common myths about Millennials, the largest global research ever conducted on this generation – a combined study by INSEAD Emerging Markets Institute (EMI), the HEAD Foundation and Universum – identified they are independent, they do want leadership roles, and they don't feel entitled enough to demand a high salary, but would rather have excellent work-life balance.
Contrary to popular belief, family and friends are not key influencers on their careers – with exception of Asia Pacific employees, who do value the opinion of friends. In fact, globally just 5% said they take friends' opinions about their careers seriously.
"This highlights a disconnect between the notion of "Helicopter Parents", who hover over their children guiding their choices, and the impact they actually have on their children's career decisions. The Millennial generation is more independent than first thought," the report states. 
ALSO READ:
Trashing the myths about Millennials
Millennials are willing to lie to get ahead
5 tips to better manage Millennial managers
Similarly, of the 16,000 global respondents, 73% chose work-life balance over a higher salary and 82% value work-life balance over their position in a company. Unlike generations before them, they would rather have no job than one they hate.
Despite wanting better work-life balance and often failing to demonstrate leadership skills, 41% confirm becoming a leader or manager is a key driver career driver.
However, the primary drivers for becoming leaders are rather 'selfish', with money (35%), influence (31%) and the opportunity to have a strategic role (31%) playing the biggest part.
"This demonstrates that for Millennials, the driver to become a leader is inward-focused, not related to the traditional leadership role of managing and coaching other employees," stated the report.
"Millennials will constitute the majority of the workforce in just five to six years from now," Petter Nylander, CEO, Universum, said.
"From an employer branding perspective, companies that cater to the needs of Millennials will lead in attracting, recruiting and retaining them. The scope and depth of the research has identified regional and national differences, confirming that a granular approach to managing and communicating to this generation is necessary for success."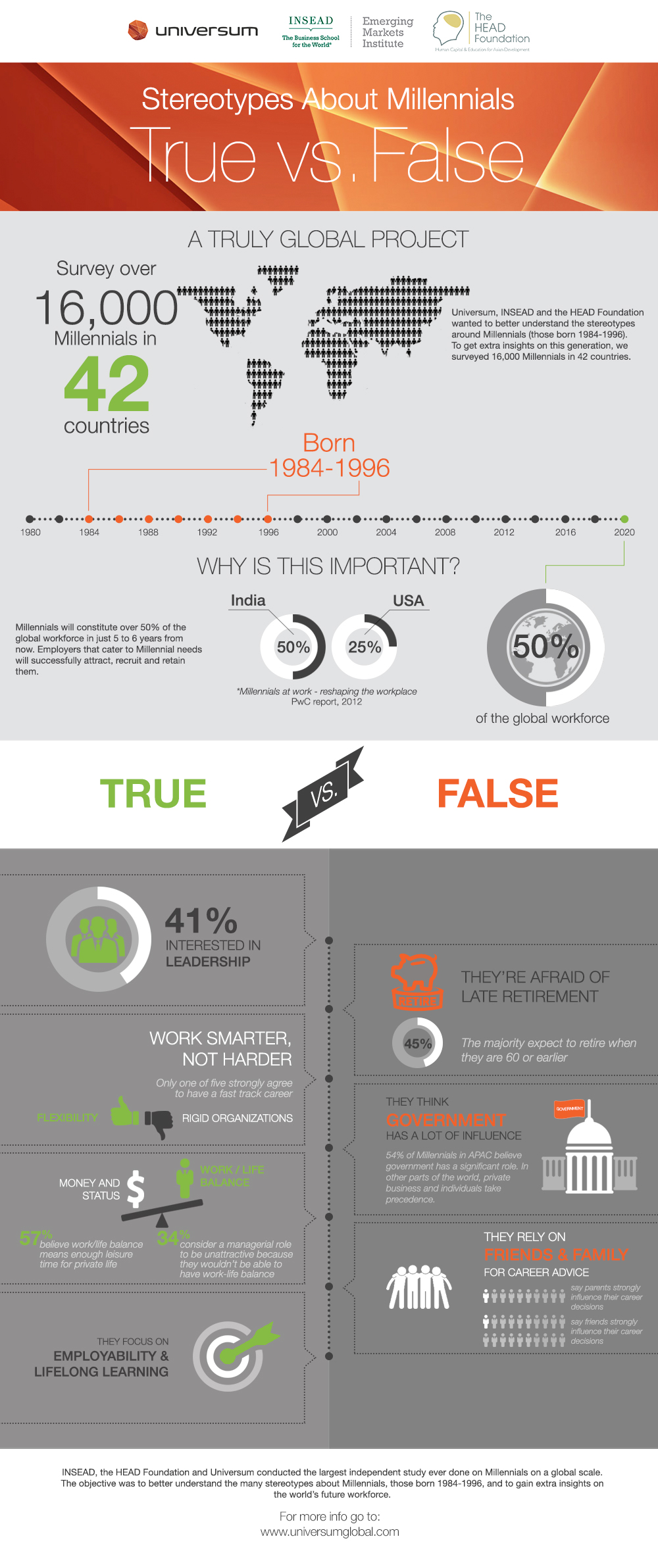 Image: Shutterstock