A heavy workloads would seem like one of the prime reasons for professionals to go on vacation.
New research, however, points to the opposite.
A recent survey by Accountemps, which includes responses from more than 1,000 U.S. workers 18 years or older, has revealed the main reasons why employees are taking fewer vacations days.
The most significant reason was the added amount of work they would have to deal with upon their return (41%).
This was found especially among workers aged 18 to 34 – 55% of such workers had skipped or taken a short vacation because of this concern.
Almost two out of five (36%) of those aged 35 to 54 and 33% of workers who are 55 and older have done the same.
Following a heavier post-vacation workload, 35% of all professionals surveyed also said they took fewer or no days off because they worried about their colleagues absorbing their workload.
"Thanks to 24/7 email access via smartphones, the lines between work and personal time are becoming more blurred, especially while on vacation," said Bill Driscoll, district president for Accountemps. "It's important to take a break from your inbox and use your vacation time to relax, so you can return to work with renewed energy."
ALSO READ: Do staff really want more vacation days?
In line with those observations, the survey found that 36% of employees ages 18 to 34 check in at least once or twice a day.
To make things worse, 41% admitted to checking in with the office at least once or twice a week while on holiday.
Other findings from the survey included:
While 40% of women said they don't have enough vacation time, only 26% of men felt the same.
37% of men plan to take more vacation days this summer versus 21% of women.
48% of workers said their managers encourage them at least somewhat to take vacations, and 47% said their managers neither encourage nor discourage them from taking time off.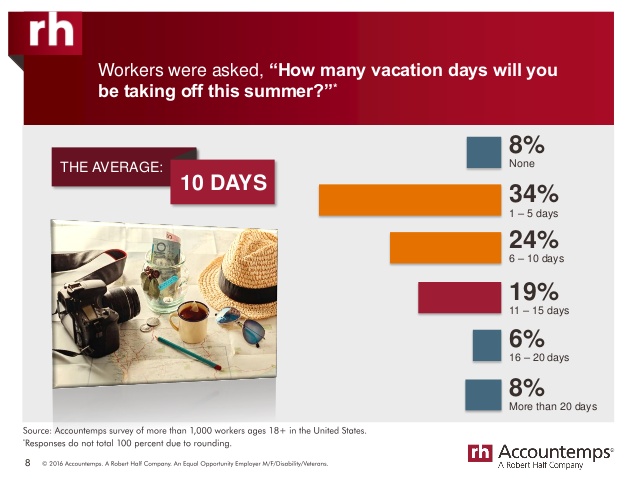 Image: 123rf.com